Posted on 05 February, 2018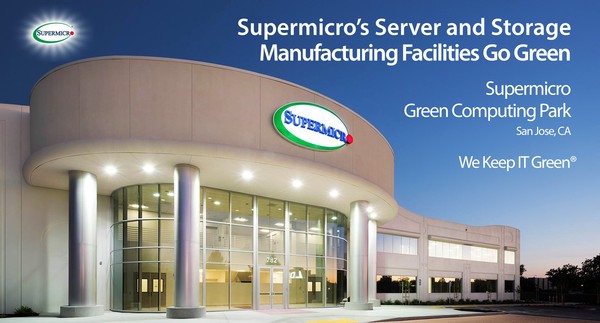 Supermicro supercharge their green credentials
Our longest standing partner, Supermicro, has introduced the first 3-Megawatt clean energy facility in Silicon Valley! Their state-of-the-art facility generates its own clean fuel-cell based electricity on-site, significantly reducing the carbon footprint while reducing projected energy costs by $8 million over 10 years.
As well as being one of the world's largest clean energy automated rack integration facilities, this new facility in San Jose has increased rack capacity by 600 per month! The clean fuel-cell based energy source also produces higher operational efficiency with minimised pollution for a cleaner work environment and goes a long way towards their ongoing commitment for installation of environmentally-friendly energy solutions.
Supermicro President and CEO, Charles Liang:
"As our datacenter business continues to grow, we scale our investments to ensure that Supermicro has the production capacity and capabilities to fully service our enterprise, datacenter and cloud customers at our Silicon Valley campus with over 2 million square feet of facilities. Supermicro shipped 1.2 million units globally last year, and this new state-of-the-art, clean energy facility increases our rack capacity by 600 racks per month and implements the latest automation and robotics technologies to streamline the rack integration process. Datacenter customers can now select from our broad range of industry leading and innovative server, storage and networking products for their large-scale deployments, and Supermicro can efficiently deliver for them."
Green Fingers All Around!
An impressive number of Boston staff have volunteered to plant trees at Heartwood Forest for the Woodland Trust once again.
Two teams will don their wellies, and several layers, to brace the English weather as they look to help expand England's largest continuous native forest. This is the second annual event at Heartwood Forest where we aim to improve on our 2,000 saplings planted in March 2017!
To no surprise, environmental management stands at the core of Boston with an ISO 14001 Standard Certificate! Our successful paper reduction program led to 32% less copying and printing in 2016 with further reductions in 2017 & 2018.
Look out for pictures from our volunteer days and discover more from our adventure last year!
https://www.boston.co.uk/blog/2017/03/10/boston-dons-the-wellies-for-green-initiative.aspx