Posted on 23 November, 2020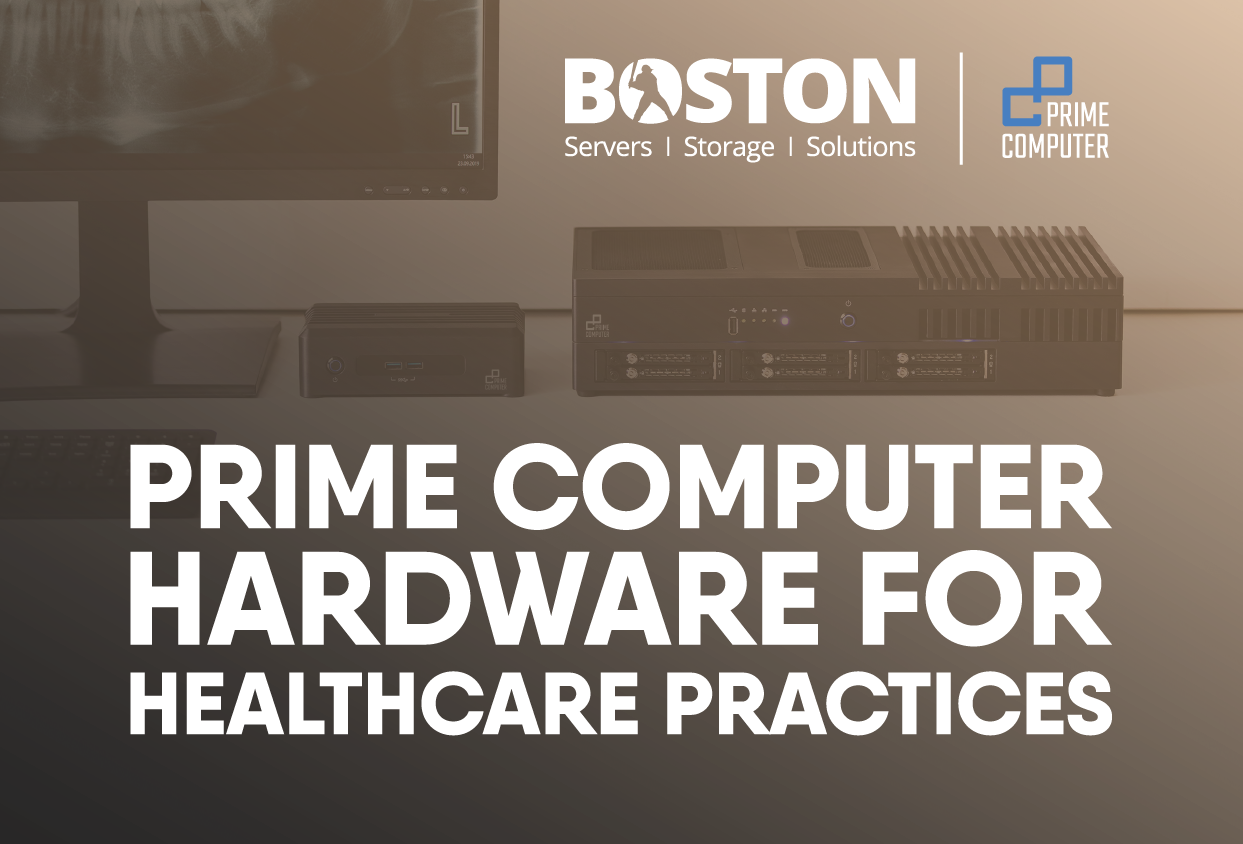 Processing data is an important part in everyday life at medical practices. It is vital to be able to manage patient records and data efficiently and securely. Prime Computer fanless Mini-PCs and servers are ideal for medical practices as they are suited to significantly simplify the everyday work of practices and their IT departments.
Silent Assistant
Prime Computer Mini-PCs are ultra compact, completely silent and have a high-quality design. The PrimeMini is built to sit directly on the desk or in the treatment room all without distrubing any patients. Any connections are also easily accessible. As the hardware of the PrimiMini's can be configured freely, this means you only pay for the features you actually need. The same product can be used in different configurations e.g. a thin client with an i3 processor or as a mini server with an i7 processor.
Powerful & Fail-safe
Managing the data and programmes of sensitive data using a separate physical server is essential for many medical practices. Although they are compact in size and passively cooled, Prime Computer's servers are powerful enough even for larger practices. These servers can be freely placed on stands, meaning there is no need for expensive, separate server rooms. Thanks to high-quality components and a mechanical-free design, Prime Computer servers are also extremely fail-safe.
The smartly designed Mini-PCs and servers from Prime Computer allows companies to achieve ambitious digitalisation and environment goals whilst reducing their lifetime cost of ownership.
Prime Computer benefits for your medical practice:
Ultra-compact design allows placement directly on the desk
No disturbance to patients, thanks to the completely silent and high-quality design
Individually configurable and upgradeable, only pay for what you really need
Fully-fledged server even without a server room, thanks to silence and flexible installation on stands
Maximum data security thanks to own server environment
No expensive downtime thanks to maximum product reliability
Easier and more accurate cost planning thanks to a 5-year warranty
Robust aluminium housing protects against damage from radiation
For Healthcare Professionals
Where?
PrimeMini
Doctor's office
Reception area
Backoffice
Examination rooms
X-ray rooms
PrimeServer Pro
Free-standing
Server room with rack
How?
PrimeMini
Client
Mini-Server
X-ray computer
Firewall
Gateway for connected practice
PrimeServer Pro
Dataserver
Application server

Regardless of whether you are starting a new practice, extending an existing practice, or taking one over, it is important to consider the role of computer technology and the long-term value it can deliver. View Prime Computer's IT guidelines for medical practices where they introduce the services they, and their partners, provide to medical and dental practices here.
You can find out about each of these products from Prime Computer by heading over to our partner page or browse products here.