Posted on 21 July, 2020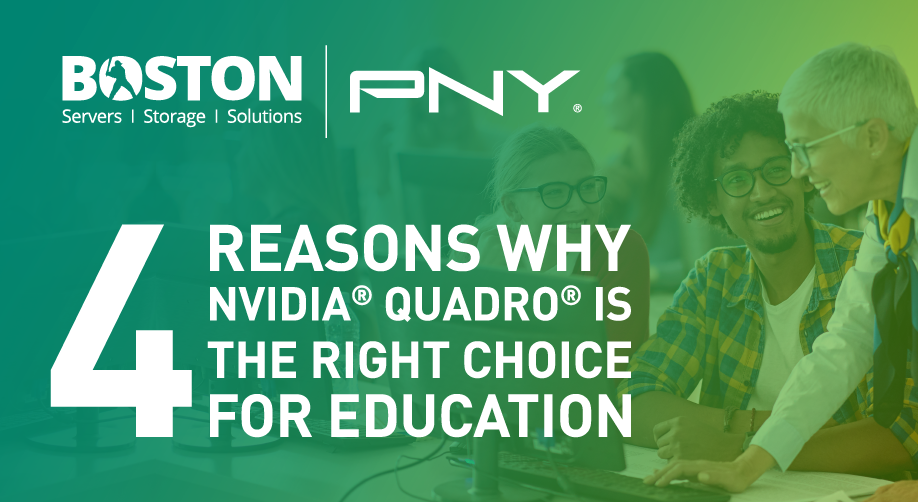 Ideal for those in the within the Science and Engineering, Architecture, Animation and Visual Arts sectors, NVIDIA Quadro GPUs are the perfect choice. Here are 4 reasons why you should take advantage of these GPUs today!
1. Teach on tools the professionals use

Providing students with real world industry experience using the most powerful graphics and virtualisation solutions for design, digital content creation, simulation modeling, virtual reality, AI and more. Trusted by millions of creative and technical professionals to accelerate their workflows, only Quadro has the most advanced ecosystem of hardware, software and tools to transform the disruptive challenges of today into business successes of tomorrow.
2. Efficient and effective workflow

Quadro GPUs are optimised and certified by over 100+ industry leading applications across any industries, including manufacturing, entertainment sciences and energy. Equipped with the world's most powerful GPUs, large memory capacities, and 8K display outputs, plus advanced rendering, AI and VR features, Quadro is built to accelerate a range of professional workflows.
3. Longevity

Designed, built and tested by NVIDIA, Quadro GPUs offer extended availability and 3 year warranty. An extended lifecycle program is still available.
4. Stay within budget

Take advantage of our special pricing today! Speak to a member of our Sales team who will be more than happy to assist. For more information, click here.