Posted on 2018/02/23

On 22nd February 2018 over 200 guests descended on Altitude, a two-floor event space housed in the tallest skyscraper in Westminster, for a celebration of Boston's 25 years in technology and innovation.
This one-of-a-kind event brought together vendors, customers and press for one night only to a party that was Boston flavoured through and through - and is one that is going to be talked about for years to come!
The theme was "25 Years of Technology" which was carried through every aspect of the night, from the table centres featuring parts of some of our most famous solutions, through to the server shaped cake with working LEDs. More importantly, it offered unpresedented access to key vendor partners, top-level management, the experts at BostonLabs and the entire Boston sales team. If you weren't able to attend the event, but would like a 1-2-1 update with one of our team get in touch. The event also provided a launch-pad for the introduction of the Boston MU-VR (Multi-User VR) solution developed in partnership with NVIDIA and HTC.
The evening started as it meant to go on with surprises that came thick and fast. Guests were greeted on the 29th floor by the 501st UK Garrison (featuring some favourite Star Wars characters) and close up magicians who demonstrated an array of mind boggling tricks. "Boston Blue" cocktails were in full flow and the Indian-themed canapes went down a treat. Suddenly, from the far corner of the venue Titan the Robot marched into the room, leaving attendees speechless with his cheeky antics and chat-up lines.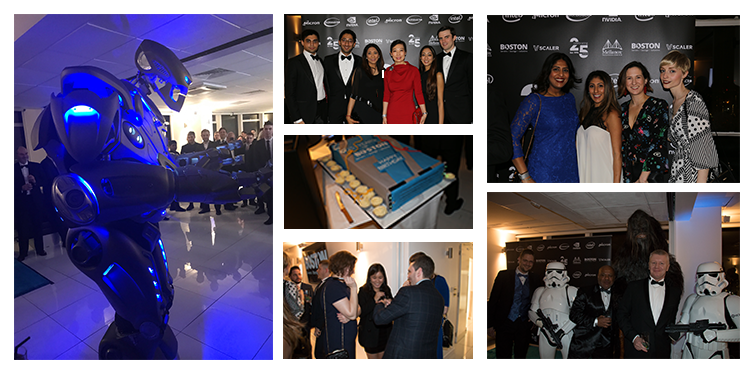 After a short welcome from hosts Manoj and Dev, the three-course fine-dining experience began. Dinner consisted of a starter of fillet of mackerel with shaved fennel, pickled cucumber, rocket and a lime and soy glaze, a main of roast goosnargh chicken breast with potato rosti, winter kale and a morel jus followed by apple tarte tatin with vanilla ice cream and salted caramel.
Once our guests' hunger had been satiated, it was time for the presentations of the evening; key partners and vendors, without whom Boston wouldn't be where it is today, were presented with commemorative 25th Anniversary baseball bats, as the presentations were rounding up Manoj and Dev were joined on stage by Supermicro who presented a certificate of outstanding partnership to Boston as the 'Best Global Strategic Alliance & Partnership'. The award is one-of-a-kind and recognises a relationship between the two organisations that spans over two decades. The presentations concluded with an emotional cutting of the Boston server cake by the first employee of Boston who is still with the company today.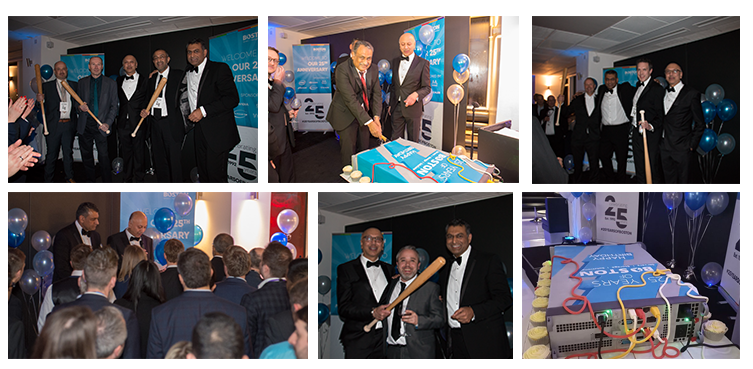 With the party in full swing, our honoured guests were escorted down to floor 28 "SkyLoft" where they were welcomed by an array of entertainment and live music. Surrounded by the scenic view of some of London's most prestigious and iconic buildings, our guests thoroughly enjoyed the fun and games available- from our MU-VR (Multi-User VR) demo, retro arcade games and digital caricaturist, to the sensational band Get Funked, each activity was chosen to delight our guests fulfilling the theme of innovation and technology and the advances the industry has seen over the years.
The MU-VR was a particular hit, still in prototype this was the solutions first UK showcase, evolved by Boston in partnership with NVIDIA and HTC, this multi-user experience runs NVIDIA Holodeck or a similar simulations where users are immersed in the same VR experience, alternatively it runs multiple individual user experiences at once. To take full advantage of the MU-VR experience on the night we ran a multi-user shooting game called Arizona Sunshine - guests were transported to the Wild West where zombies were attaking, gamers had to group together to battle the approaching zombies in an attempt to save their own lives. More information on the MU-VR will follow as we approach it's official release.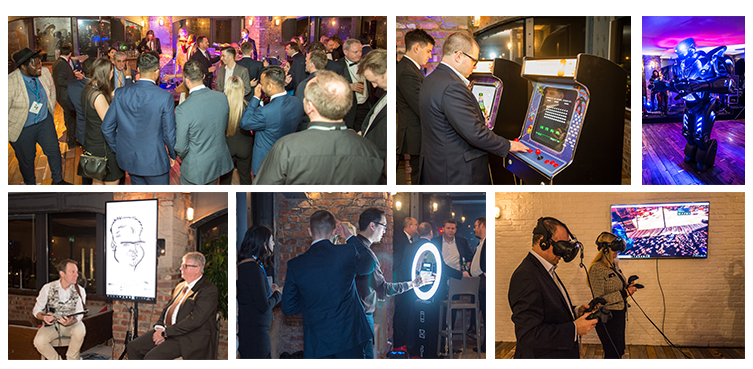 There's more to come in our official event video, but if you can't wait you can check out our photo gallery right now.