Posted on 12 June, 2013
Boston is immensely honoured to be selected as sponsor of the EPCC (Edinburgh Parallel Computing Centre) team at this year's Student Cluster Challenge at ISC '13, 17-19 June.
The Student Cluster Challenge is a showcase for student HPC expertise in a real-time challenge to build a small HPC cluster on the ISC exhibit floor. The challenge is to achieve the maximum performance whilst remaining within a strict power limit of 3kW.
The team, which you can find on stand #647, consists of four students studying the HPC MSc at The University of Edinburgh. They will be the first team from the UK participating in this competition.
We are delighted to sponsor the team as they take on the best HPC talent in the world. Everyone at Boston wishes the team all the best, viel glück!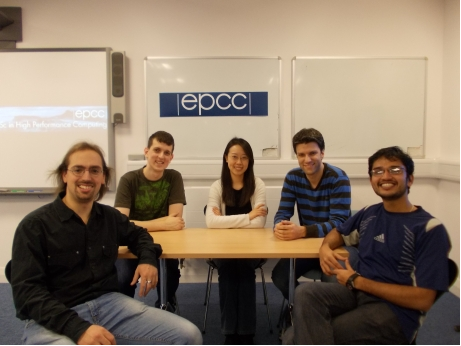 L/R – Paolo Martino, Don Browne, Xu Guo, Nikolaos Koutsikos and Swapnil Laxman Gaikwad
You can follow the EPCC team on their blog (http://www.epcc.ed.ac.uk/blog) and find more details about the Student Cluster Challenge, including the competition itinerary (http://www.hpcadvisorycouncil.com/events/2013/ISC13-Student-Cluster-Competition/).