New 1U Top-of-Rack SuperSwitch and 6U 112-Node MicroBlade Feature Intel Processors and 10/40 GbE Intel Ethernet Switches
Tuesday, 1 April 2014 Source: http://www.supermicro.com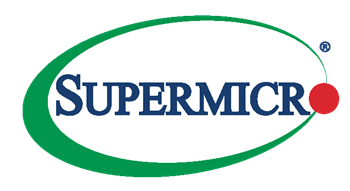 Las Vegas, NV, April 1, 2014 - Super Micro Computer, Inc. (NASDAQ: SMCI), a global leader in high-performance, high-efficiency server, storage technology and green computing highlights its new advanced Software Defined Networking (SDN) SuperSwitch and MicroBlade microserver solutions at Interop, Las Vegas this week. At the show, Supermicro launches its new 1U SDN switch platform developed using the Intel® Open Network Platform (ONP) top of rack (TOR) switch reference design. Built using the Intel® FM6764 Ethernet Switch and the Intel® Core™ i3 Processor with Intel® Communications Chipset 8900 combined with Intel Open Network Software (ONS), this programmable switch offers flexibility, agility, security and dynamic manageability through SDN and network functions virtualization (NFV). The SuperSwitch Platform supports OpenFlow control protocols and features 48x 10GbE SFP+, 4x 40GbE QSFP and 2x 1GbE RJ45 management ports in a 1U rack mount form factor, the Layer 2/3 SSE-X3848S is ideally suited for high bandwidth Top-of-Rack (ToR) link aggregation with 1,280Gb/s of switching capacity and Layer 3 packet performance of up to 960 million packets per second.
Supermicro will also showcase its 6U 112-node Intel® Atom™ C2000 based MicroBlade microserver with MicroBlade SDN switches at Interop. This extreme density, ultra low power modular Blade architecture maximizes rack utilization with 112 independent power-conserving nodes (as low as 10W each) enabling up to 784 servers per 42U rack. Even higher density can be achieved with the Intel Atom-based architecture which can support up to a maximum 224 nodes. MicroBlade incorporates four Intel® Ethernet Switch FM5224 modules featuring SDN functionality and an Intel Atom C2000 control plane processor that supports up to 2x 40Gb/s QSFP or 8x 10Gb/s SFP+ uplinks and 56x 2.5Gb/s downlinks per module, reducing cabling by 99%. Performance oriented UP and DP configurations supporting Intel® Xeon® E3/E5 processors families will be available in the next few months.
"Supermicro's new SDN enabled SuperSwitch and MicroBlade switches provides Data Center, Cloud and Enterprise environments the greatest flexibility to dynamically allocate networked resources as data demands shift," said Charles Liang, President and CEO of Supermicro. "Working with Intel, we've developed a high-bandwidth IA based switching solutions enabling a highly efficient and cost effective path to network virtualization. Supermicro's new top-of-rack SuperSwitch combined with our extreme density, low power MicroBlade and extensive range of energy-efficient SuperServer and SuperStorage platforms delivers complete computing solutions exactly optimized to maximize ROI in hyperscale deployments."
"The Intel® Open Network Platform Reference Designs are an important part of Intel's networking strategy to enable the industry to move toward open, standards-based technologies such as SDN and NFV," said Rose Schooler, vice president of Intel's Data Center Group and general manager of the Communications and Storage Infrastructure Group. "The new Supermicro SuperSwitch, developed from the Intel® ONP Switch Reference Design, delivers a high performance, easy to deploy and cost effective network switch that offers management and control functionality."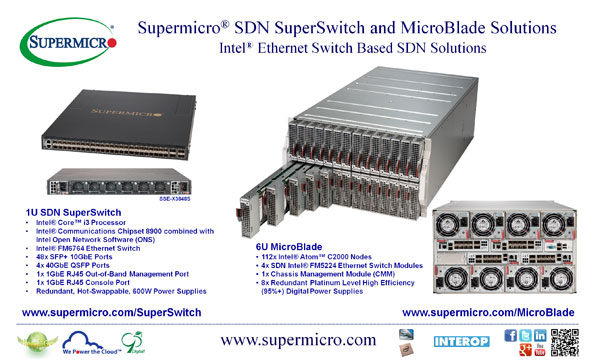 1U SDN SuperSwitch (SSE-X3848S)
Intel® Core™ i3 Processor
Intel® Communications Chipset 8900 combined with Intel Open Network Software (ONS)
Intel® FM6764 Ethernet Switch
48x 10GbE SFP+ ports
4x 40GbE QSFP ports
1x RJ45 Out-of-Band Management port
1x RJ45 Console port
1x USB port
Redundant, Hot-Swappable, 600W Power Supplies
6U MicroBlade Microserver
112x Intel® Atom™ C2000 Nodes
4x MicroBlade SDN Switches
Intel® FM5224 Ethernet Switch
Intel® Atom™ C2000 Processor
Intel® Open Network Software (ONS)
2x 40Gbps QSFP uplinks
8x 10Gbps SFP+ uplinks
1x 1Gbps RJ45 uplinks
56x 2.5Gbps downlinks
1x RJ45 Console port
1x Chassis Management Module (CMM)
8x Redundant Platinum Level High Efficiency (95%+) Digital Power Supplies
Visit Supermicro at Interop Las Vegas, in the Mandalay Bay Convention Center, April 1-3, Booth 1141.