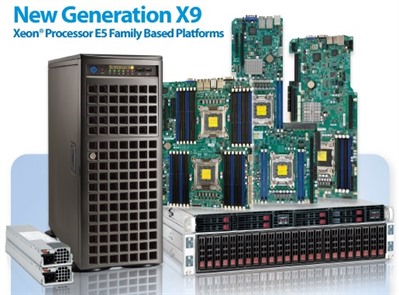 Supermicro's New Generation X9 SuperServer, Serverboard and SuperBlade Platforms offer the highest levels of performance, efficiency and scalability in the industry.
Highest Performance, and Efficiency and Scalability
With these New Generation X9 Platforms, Supermicro offers numerous advantages over previous generations including up to 768GB of Reg. ECC DDR3-1600MHz memory in 24 DIMM slots, SATA 3.0 and SAS 2.0 (6Gb/s) HDDs, ConnectX FDR/QDR Infiniband ports, dual 10Gigabit Ethernet, Quad Ethernet LAN, PCI-E 3.0 technology, LSI 2008 controller with software RAID and LSI 2108 controller with hardware RAID, 2.5" and 3.5" hard drives, IPMI 2.0, and Intel Xeon processor E5-2600-1600 family for high performance.
High Cooling and Efficiency, Platinum Level (95%) Digital Power Supplies
Supermicro New Generation X9 Platforms offer upgraded high speed fans with high effective cooling architectures and major advances in high-efficiency Platinum Level (95%+) Digital Switching and integrated UP battery backup power supply technologies for increased efficiency in high availability mission critical applications and free-air cooling data center environments.
Most Complete, Scalable Computing Solutions
When combined with full rack integration services and new Data Center Management software that manages health, power and maintenance of servers in large deployments, Supermicro New Generation X9 SuperServer, Serverboard, and SuperBlade Platforms provide the most complete, scalable computing solutions with maximized performance and the highest levels of efficiency.
For more information on Supermicro's New Generation X9 Platform click here and a member of our sales team will be in touch.