Posted on 12 July, 2023
From Cables to CloudXR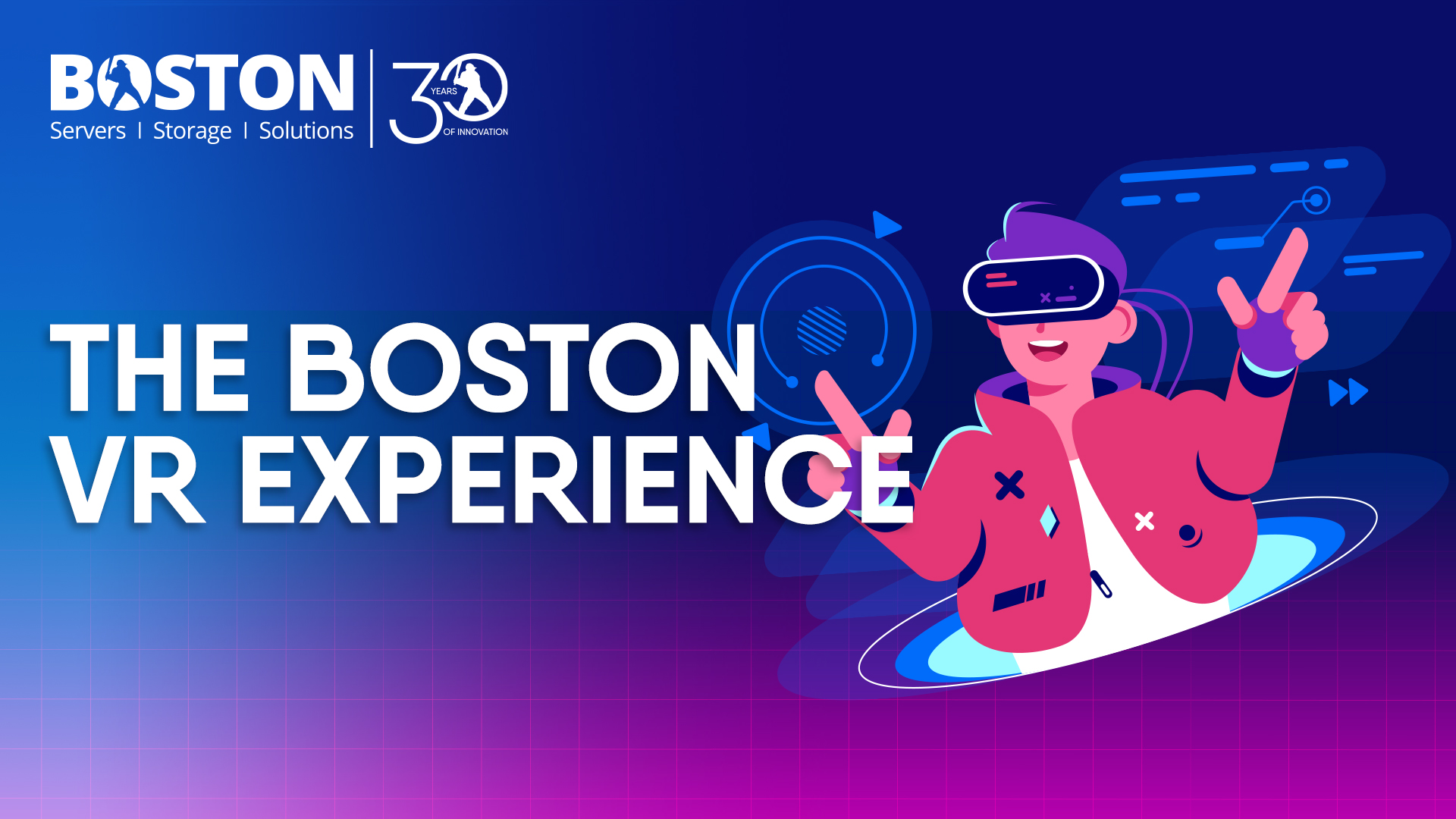 Here at Boston we have a fantastic opportunity to test out cutting edge technologies and thanks to our partnerships with big names such as NVIDIA, Supermicro and VMware we have a unique lead in terms of solutions we can provide.
With the newer generation of hardware now available to us we can take a look back at our older products and see how far we have come and how much we have learned from the constraints of the time.
Our oldest VR solution, the Multi-User Virtual Reality (MU-VR) box, used at the time cutting edge P6000s and HTC Vive headsets, all contained within a 10U rackmount on wheels. This older solution allowed up to 4 people to be connected to a multi-VR collaboration environment while using a dedicated area and tethered to the MU-VR. Our partnership with Vertigo Games was by far our most talked about experience at the time with Arizona Sunshine.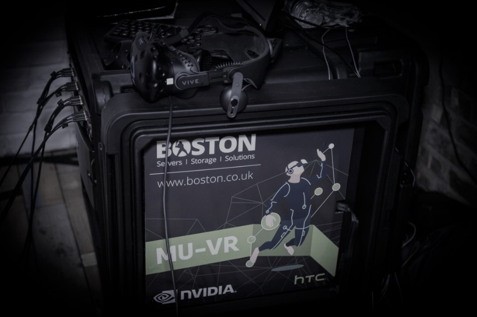 Our original 10U solution - MU-VR
For more integrated systems which were not going to be on the road we were able to compress the case size to a standard tower and have had numerous successful deployments of our MU-VR solution, all which are still in operation and maintained to the day of writing.
The challenge at the time was to have enough compute power to run all users simultaneously, but thanks to the dedicated and experienced team we found a way to make this possible. Another challenge is still maintaining users in the experience while being tethered to the MU-VR.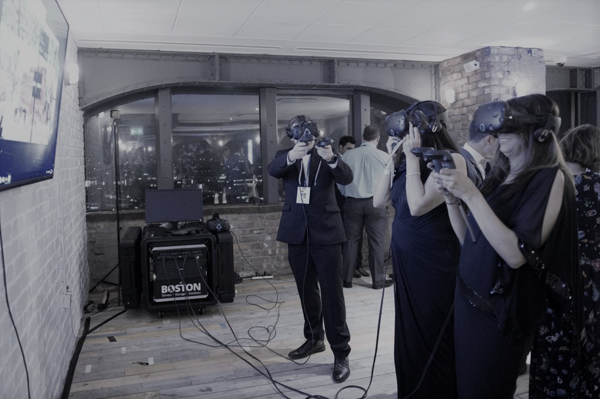 The MU-VR in action
HTC released a tether less kit for their Vive headset, removing the cables and further enhancing the experience. These unfortunately, used a lot of the valuable compute resource so we had to sacrifice the number of users for the experience. It was simply down to the limitations of the hardware we had at the time.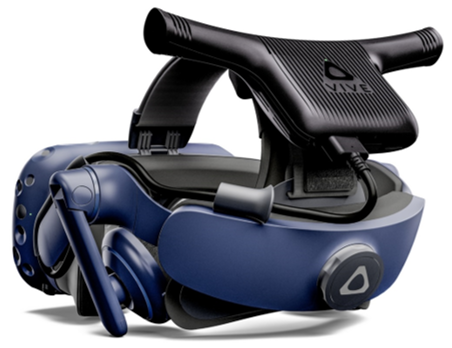 The WI GIG adapter for the HTC Vive
As time went on, the release more powerful Intel and AMD processors as well as Supermicro motherboards eased the bottleneck of compute power which has made deployments much easier for Boston to complete.
NVIDIA, with the creation of CloudXR releasing it in 2020, completely changed how we would view our VR solutions. After considerable testing, we rebuilt the MU-VR as the Multi-User CloudXR (MU-CXR) solution, breaking the need for dedicated spaces for the VR experience and untethering users from the system itself.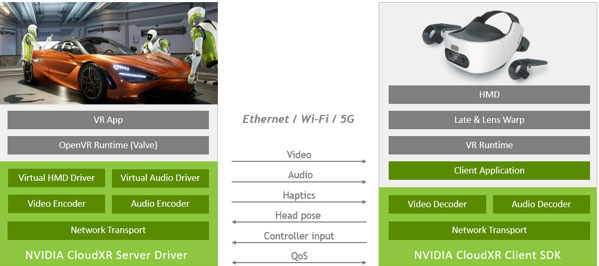 A brief overview on how CloudXR works
This technology allowed several major improvements over the original MU-VR:
Removed the need for cables and tethering to the system
Removed the need to have a dedicated setup area
WiFi, 5G and 6G connectivity allows for XR content to be viewed anywhere (as long as the connection is strong)
Allowed for all-in-one and mobile XR capable devices to be used
Virtualisation using NVIDIA vGPU can give the system even more users
With all of these improvements and the rebuilding of the MU-CXR we could now boast up to 16 users per system and had the opportunity to switch to HTCs Vive Focus 3; a very light and sturdy all-in-one headset with already fantastic visuals and push it to what is capable in XR.
The HTC Vive Focus 3
On Thursday 4th May 2023, we hosted our CloudXR and Omniverse day in London at the International Student House. With the MU-CXR now on wheels, we were able to stream to 4 Focus 3 headsets simultaneously. Our only limitation on the day was space as we wanted users to experience a walkabout environment so they had the best possible experience. With additional screens, we displayed the viewed content form the headsets to everyone else present so they could also see what was happening in the virtual world. As it was Star Wars day, we also had a 5 minute interactive experience to end with as a bonus to what we had planned.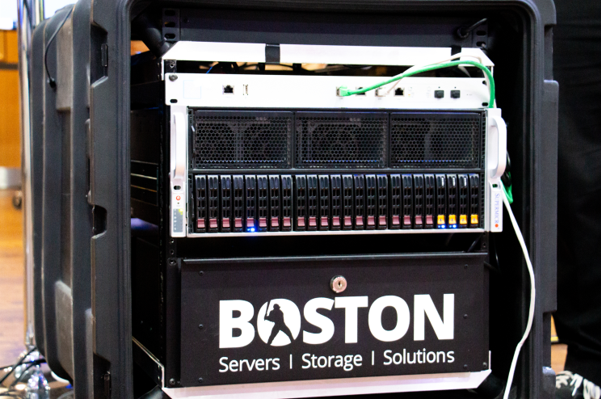 The MU-CXR solution in action
However, with professional software(s) demanding more and more processing power, we were reaching the limitations of what the current generation of MU-CXR could handle. Now, with the Genoa generation of AMDs EPYC processors, we once again can look to expanding our design.
With the new build, we boast up to 20 users per system and enough compute power under the hood to allow for even the most strenuous tasks they offer with no fear of degradation in performance, bringing Boston back on top of XR solutions provider.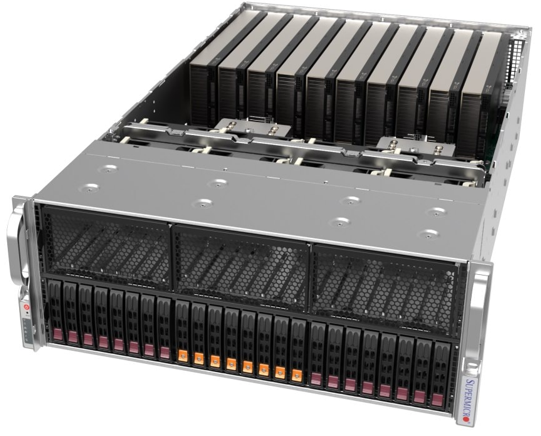 The Genoa-based MU-CXR
In the future we hope to incorporate more powerful GPUs which will expand the number of users possible per system and continue to work closely with our partners who make this solution possible to bring to everyone.
Looking back, we have gone from running up to 4 users on a tether up to 20 wirelessly on nearly any XR device in record breaking time which is a monumental achievement since the original MU-VRs inception. At Boston, with a veteran team behind the driving force of our products, we strive to break boundaries and bring tailored solutions to you, for any scale.
Test drives of Cloud-XR are already available via Boston Labs, our onsite R&D and test facility. The team are ready to enable customers to test-drive the latest technology on-premises or remotely via our fast internet connectivity, however due to the nature of CloudXR with many moving parts and connectivity requirements we recommend a physical demonstration.
If you are ready to start your XR journey, then please get in touch either by email or by calling us on 01727 876100 and one of our experienced sales engineers will happily guide you to your perfect tailored solution and invite you in for a demo.
Written By:
Peter Wilsher - Field Application Engineer