Denser NAND also gives the 7450 series a small boost over Micron's 96-layer 7400 series, however, since they both use a PCIe 4.0 interface the improvement is incremental between the two – 200MB/s faster read/write throughput and 37K IOPS faster random write performance for the 7450.
It is interesting to see that the design of Micron 7450 SSDs in U.3 2.5'' 15mm form factor differs from drives that we have seen in the past – the cooling fins are located on the top side of the SSD instead of the bottom where the screw mounting holes are located. The fins are much larger possibly due to denser 176-layer NAND which takes up less space on the drive's PCB, allowing for deeper cooling channels. This is a positive change that allows the drive to get more airflow from the server chassis and results in better cooling.
Full specs along with the performance figures can be found in below table.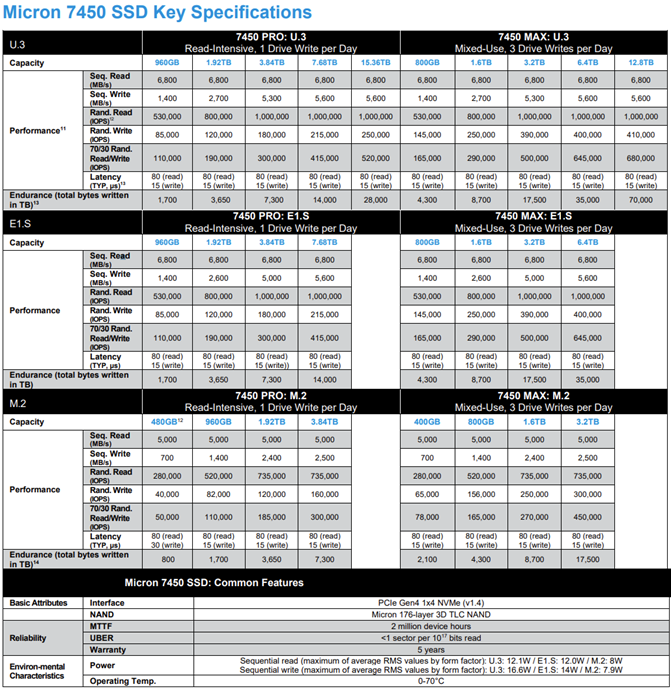 Pic: Micron 7450 specification
The Micron 7450 comes in three security flavours - SED (self-encrypting-drive) Opal 2.01, SED TCG 2.01 + IEEE-1667 or a non-SED. The below part number decoder will help you identify the meaning behind of each character in the product part number.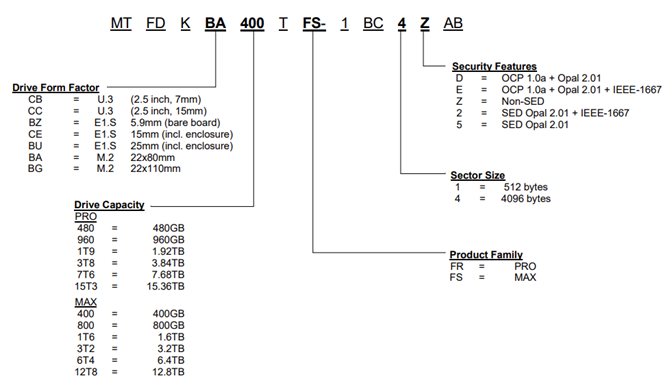 Pic: Micron 7450 series part number decoder
Micron's 7450 series SSD, as with their 7400 series, supports 128 NVMe namespaces, meaning the drive can be logically divided into smaller sections, each with independent I/O submission and completion queues. This helps minimise multiuse interaction by helping the NVMe SSD keep I/O for each namespace separated. This is most useful when sharing NVMe SSDs over high-bandwidth fabrics.
To quantify the performance of the Micron 7450 Pro SSD's, we used the Supermicro SYS-620U-TNR which is available in Boston Labs. The SYS-620U-TNR is from Supermicro's Ultra server range and is based on the latest Intel 3rd Gen Scalable Processor series (Ice Lake). The server comes with 12 drive bays supporting PCIe 4.0 NVMe SSD's. It also supports Intel VROC (Virtual RAID on CPU), allowing us to test the Micron 7450 Pro in RAID mode.
In single drive testing, we compared the new Micron offering with their previous 7300 Pro series SSD which used a PCIe 3.0 bus.
To test sequential throughput performance, we utilised the well-known ATTO Disk Benchmark which is able to test a variety of I/O chunk sizes starting from 512 Bytes up to 64MB. The graphs below illustrate the comparable performances of 7300 and 7450 drives across a range of block sizes.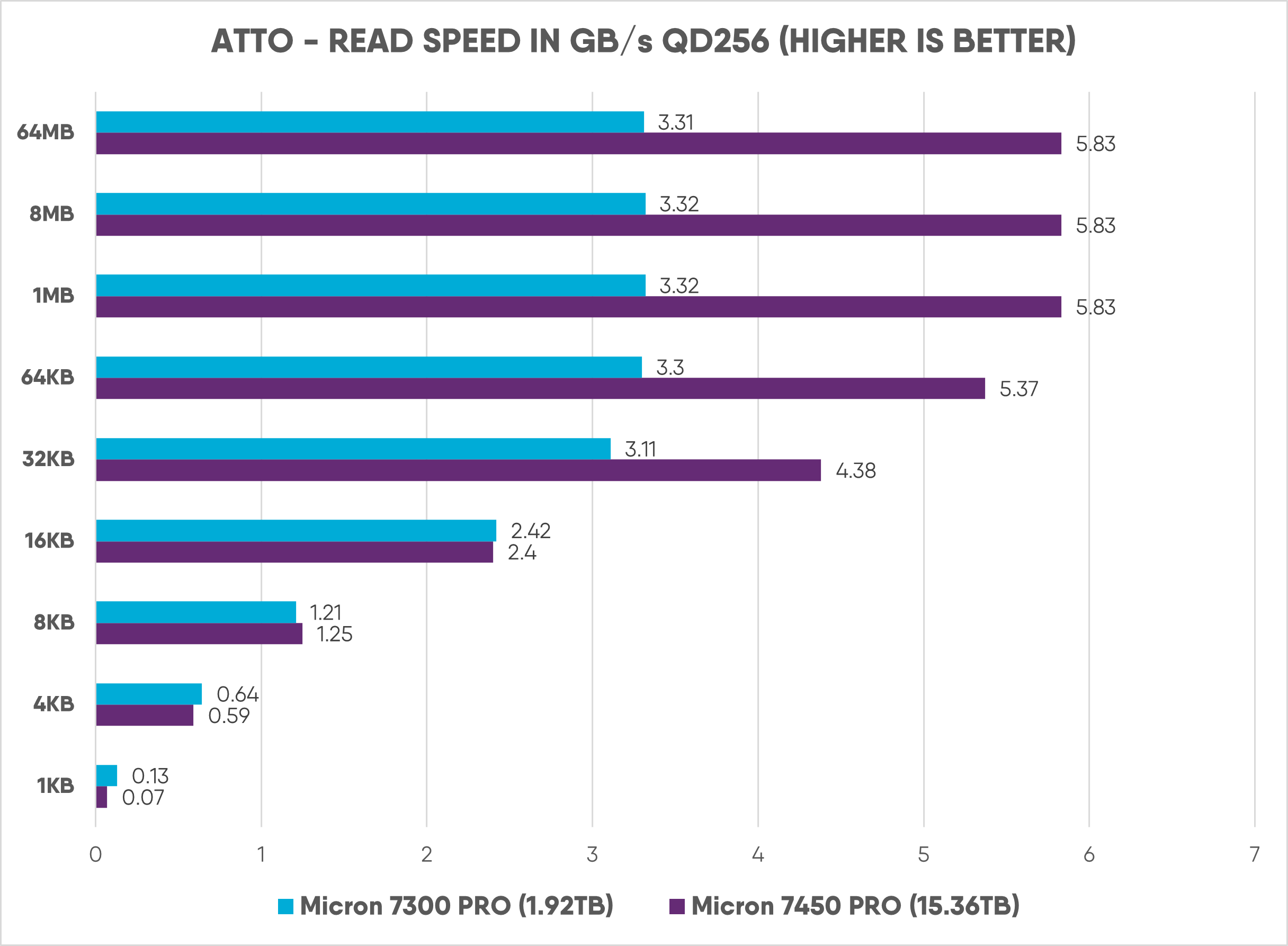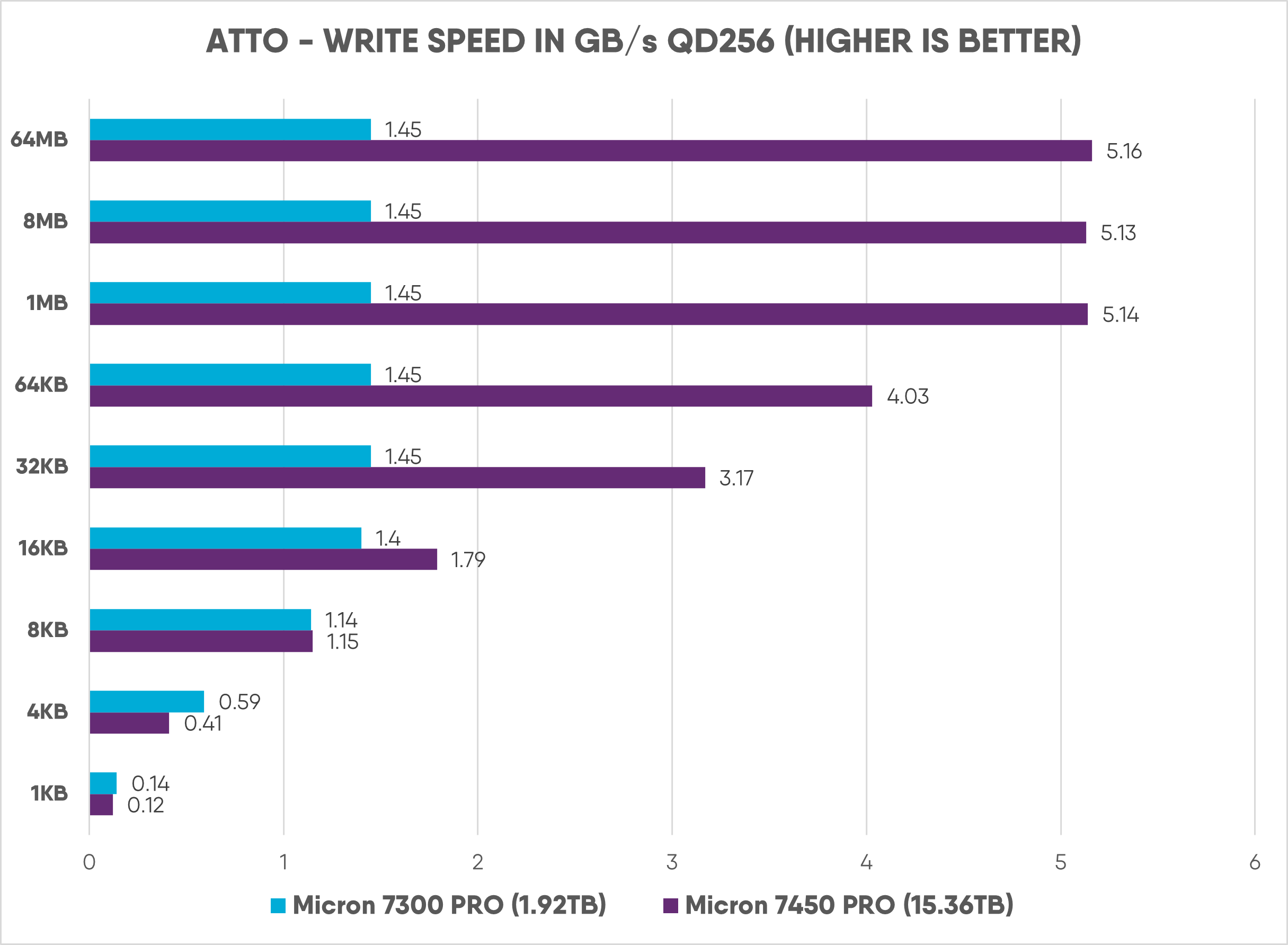 Under both read and write conditions at lower block sizes, 1KB and 4KB, the older Micron 7300 Pro does demonstrate a slight performance benefit which could be due to the capacity difference of the drives that we had available for testing or the NAND density. However, as block sizes increase, we see a clear overall winner in the Micron 7450 Pro. The upgraded PCIe 4.0 interface, offering double the bandwidth of the previous generation, gives the Micron 7450 Pro a clear edge over the older generation device. It delivers almost double the read throughput of the older generation, up to 5.83GB/s, and more than double the write performance at 5.16GB/s.
To test random performance, we used the AS SSD benchmark and selected a 4KB block size, 64 threads test using a 10GB test file.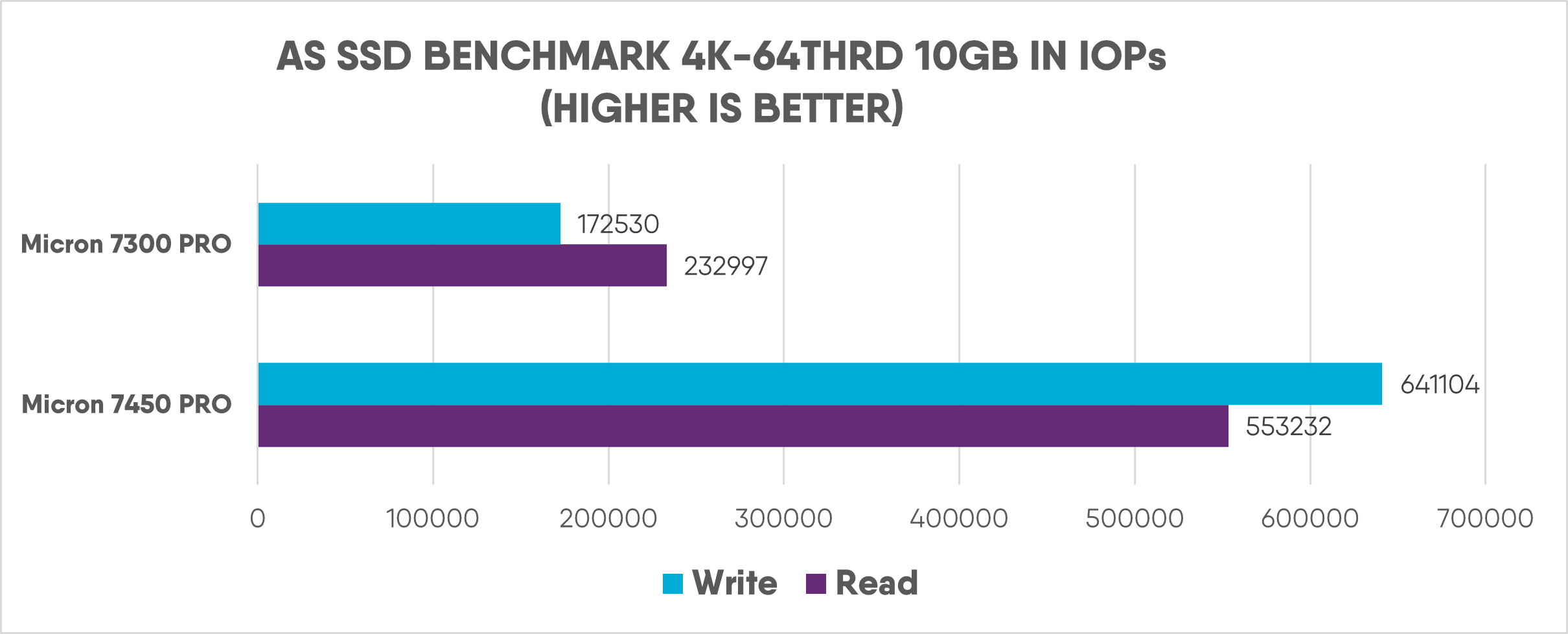 The Micron 7450 Pro came out on top again, with more than 641k write and 553k read IOPs, almost 3x that of the 7300 Pro.
To generate a more realistic every-day test scenario, we used CrystalDiskMark 8 and selected a real-world performance option that uses a mix of 70% reads and 30% writes, replicating a similar usage pattern to many regular server workloads.
The Micron 7450 Pro once again proved to be a great performing drive, reaching 15380 IOPs in mixed workloads, a significant boost over the older 7300 Pro model.
Since our test system supports Intel Virtual RAID on CPU (VROC), we also tested four Micron 7450 Pro U.3 SSDs in a RAID 0 configuration. Intel VROC is an enterprise-level RAID solution that unleashes the scaled performance of NVMe SSDs. Intel VROC is enabled by a feature in Intel Xeon Scalable processors called Intel Volume Management Device (Intel VMD) which, in turn, represents an integrated and dedicated hardware inside the CPUs PCIe root complex. NVMe SSDs are directly connected to the CPU, allowing the full performance potential of fast storage devices.
With 4 SSDs in RAID 0, one achieves the total storage capacity of 4 drives and "in theory" 4x of read and write performance of one drive. However, there is always some overhead limiting that scaling; performance of HDDs or SSDs in RAID never quite scales perfectly when adding more drives. This limitation tends to be related to the RAID implementation and key components like the CPU time and bus bottlenecks rather than the drives themselves.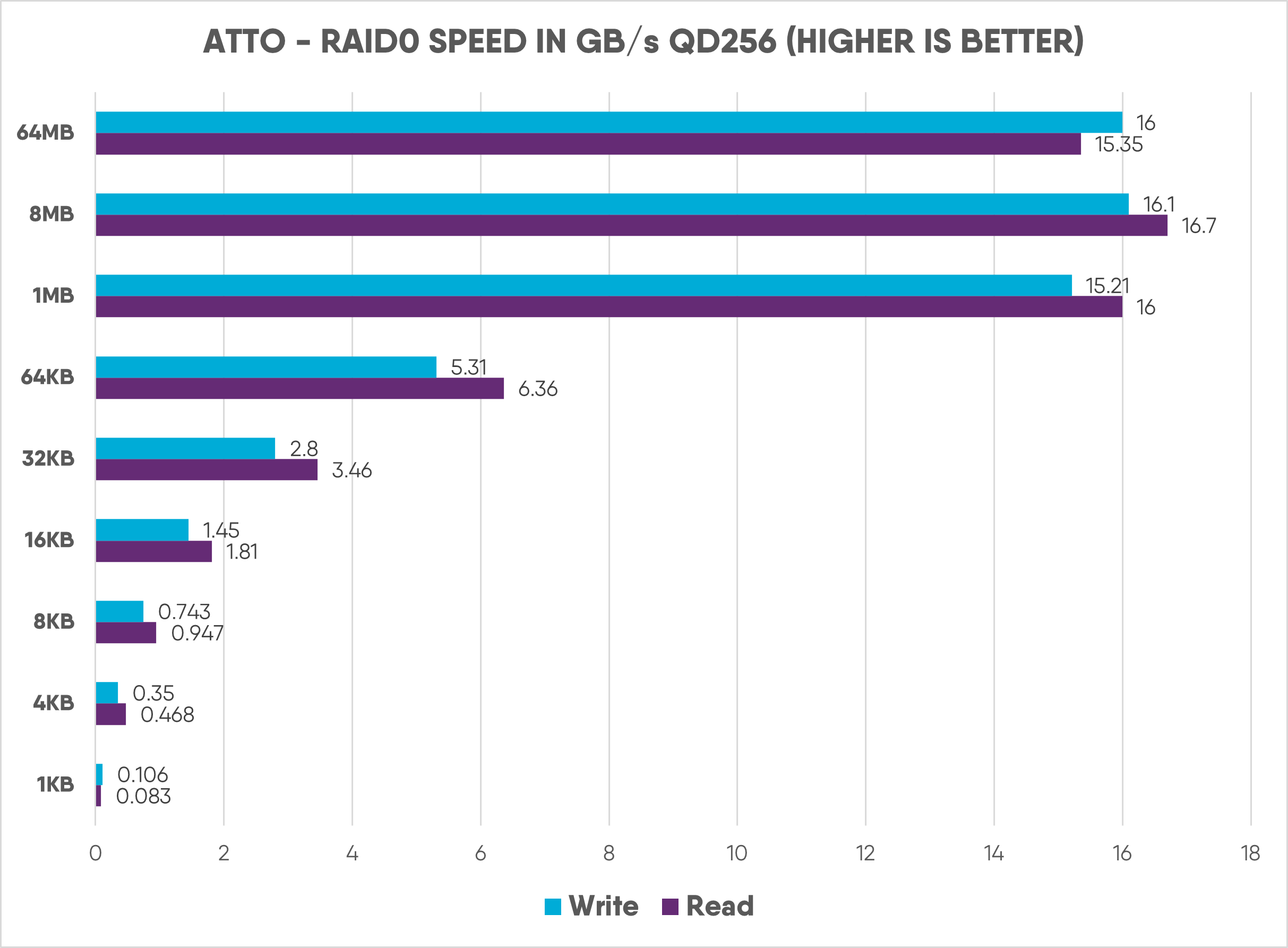 Our test results show that in RAID 0, we were able to achieve up to a colossal 16.7GB/s read and 16.1GB/s of write throughput.
In a perfect world, when extrapolated from our previous single disk test, this would be 23.32GB/Ss and 20.64GB/s, which equates to a linear scaling of around 72% and 78% respectively, which isn't a bad result for RAID functionality integrated into the CPU.
In conclusion, the Micron 7450 is a great NVMe storage device which showed impressive performance results throughout our testing. The PCIe 4.0 interface brings a huge performance gain over the previous generation with double the theoretical bandwidth, leaving the PCIe 3.0 based 7300 in its dust.
Some might wonder why Micron launched the 7450 series only a few months after announcing the 7400 series SSDs. According to Micron, the ASIC and the firmware in both 7450 and 7400 series drives is ~85% the same - the 7400 series is built with a well-established 96-layer NAND, whereas the 7450 series have been built with Micron's latest 176-layer NAND which has recently been put into mass production. The 7450 is not a replacement for the 7400 series – they are both meant to co-exist, providing better overall availability for customers during the times of component shortages. Additionally, due to denser NAND, Micron has enabled 7450 with 15.36TB capacity, which wasn't available in the 7400 series.
The Micron 7450, thanks to its 176-layer NAND, consumes less energy than the 96-layer 7400 series. Micron have also further improved its security features which makes it an even greater choice for the datacentre. Like the other Micron enterprise class SSDs, the 7450 series comes with 2 million hours of MTTF and a 5-year warranty.
We are excited to see what Micron will do next, with their recently announced next generation 232-layer NAND in the datacentre and cloud storage!
Boston Labs is all about enabling our customers to make informed decisions in selecting the right hardware, software and overall solution for their specific challenges.?If you'd like to request a test drive of Micron 7450 Pro NVMe SSD's or any other Micron product, please get in touch by emailing [email protected] or call us on 01727 876 100 and one of our experienced sales engineers will gladly guide you through building the perfect solution just for you.
Author:
Tom Michalski
Senior FAE at Boston Limited