Posted on 23 November, 2021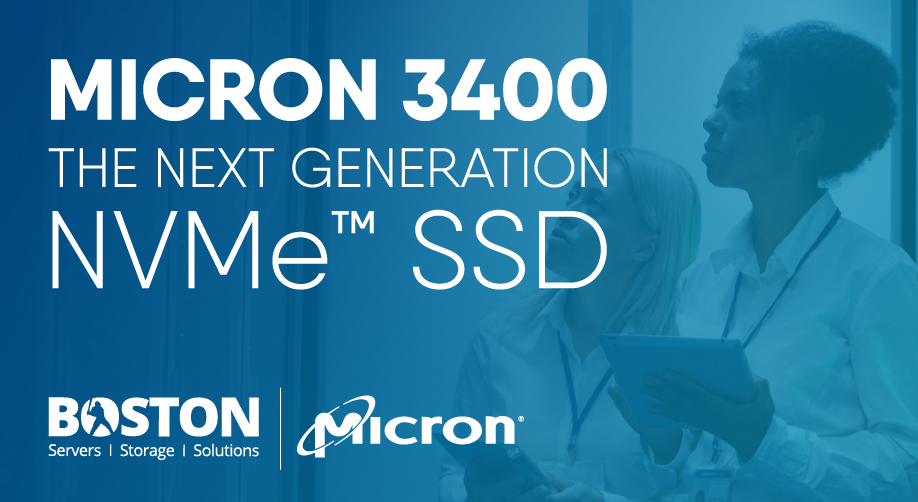 Today, thanks to our friends at Micron, Boston labs are pleased to announce the latest addition to our enterprise test drive pool - the brand-new Micron 3400 NVMe™ SSD.
Available to buy now, the 3400 SSD is designed for use in professional workstations, corporate PCs, notebooks, gaming systems as well as in servers as boot drives. It is built with an innovative industry-first 176-layer triple-level cell (TLC) mass-production NAND for great power efficiency and storage density. This SSD comes in an M.2 2280 form factor and uses a PCIe 4.0 interface with NVMe 1.4 storage protocol. As a result of these interface and protocol upgrades, Micron touts that the 3400 offers 2x the read throughput, up to 85% write throughput, up to 67% faster random read, and 40% random write performance compared to their previous generation 2300 series SSD's - a great improvement!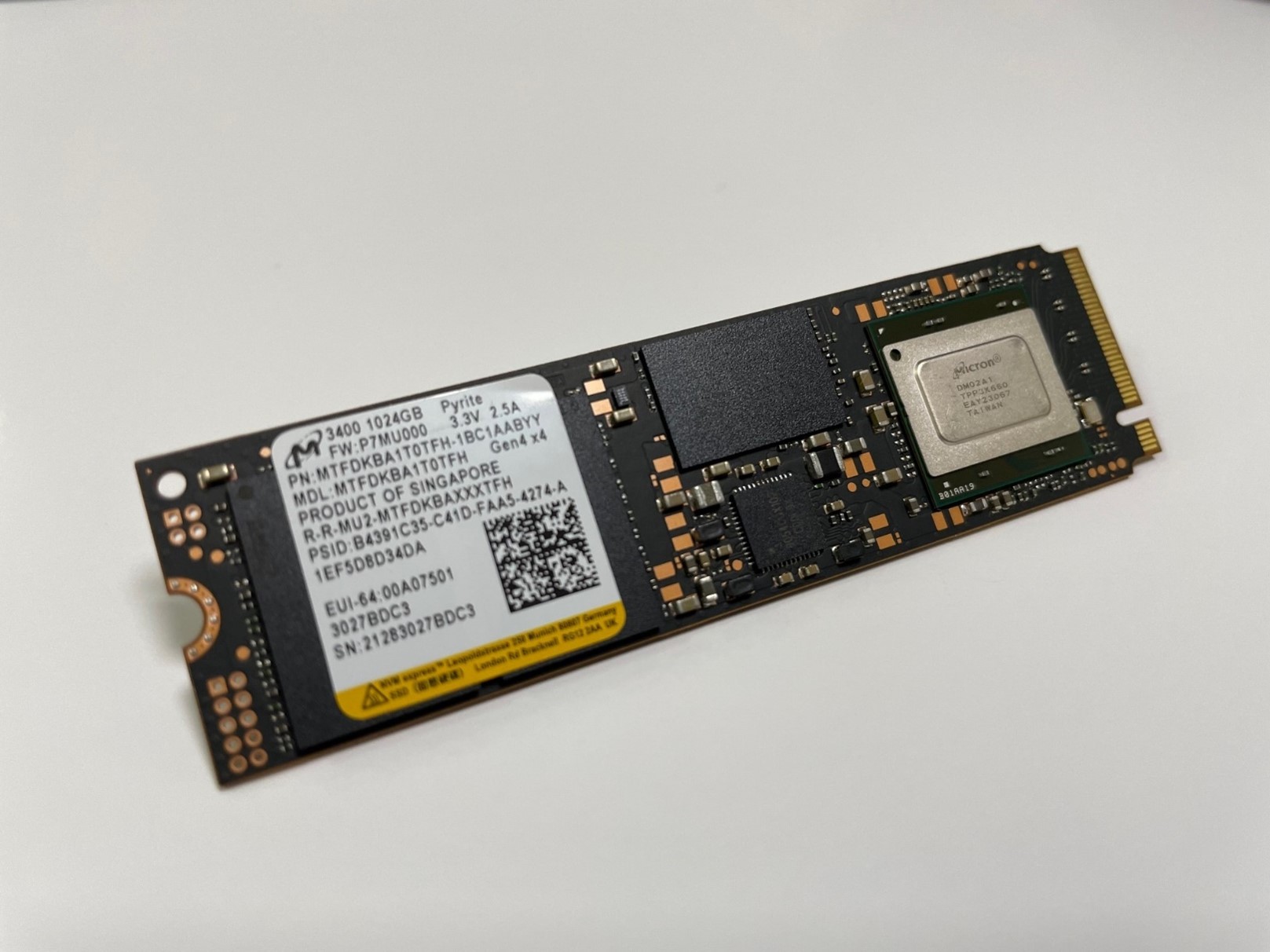 The Micron 3400 comes in 3 capacity points 512GB, 1TB and 2TB, and a quite impressive endurance for this type of SSD of 0.54 DWPD (drive writes per day) over 3 years.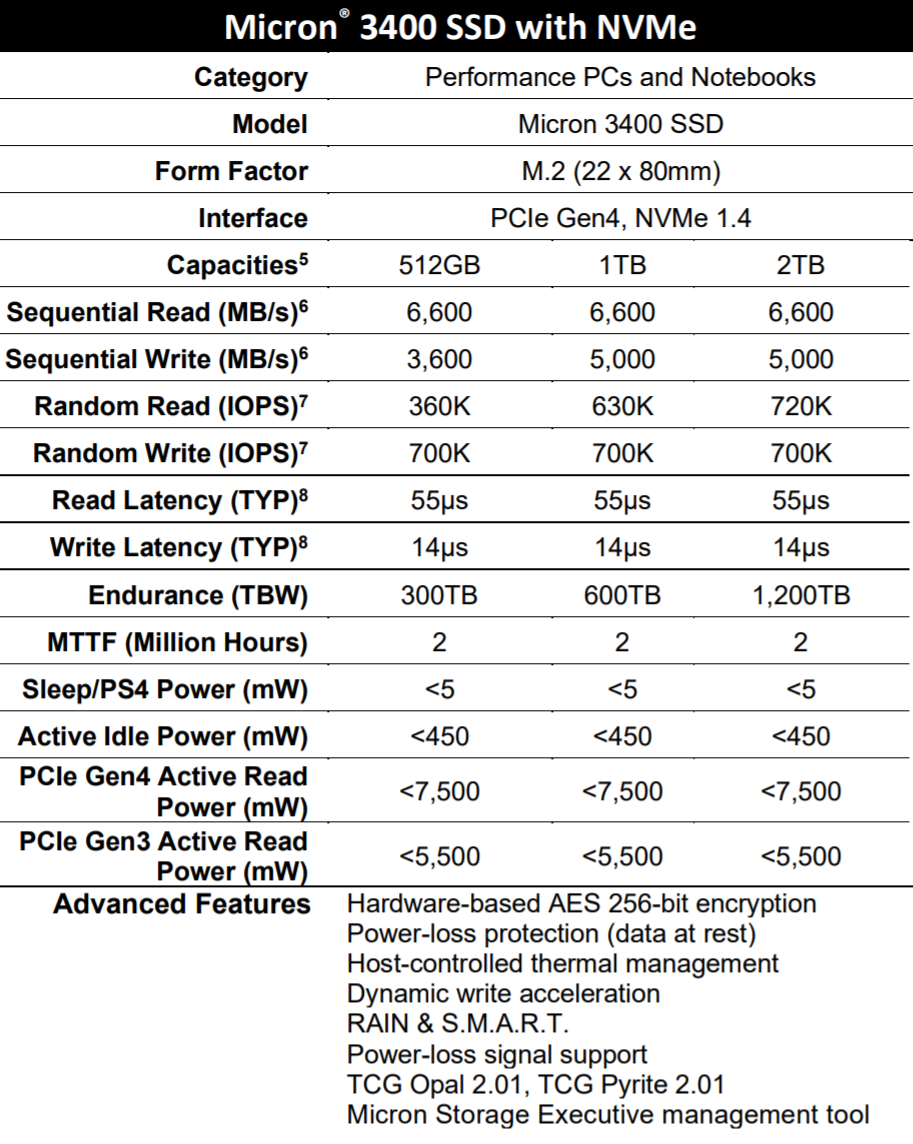 Micron 3400 specification
The Micron 3400 comes in two security flavours - SED (self-encrypting-drive) TCG Opal 2.01 and a non-SED TCG Pyrite.

Micron 3400 series part number decoder
To validate the performance of the Micron 3400 SSDs, we used one of our highest performing solutions, the Supermicro AS-5014A-TT workstation, based on the latest AMD's Ryzen Threadripper Pro. Featuring a Supermicro M12SWA-TF motherboard, this includes four PCIe 4.0 M.2 slots with the NVMe RAID support. Micron was very kind and provided us with four 1TB SSDs so we could test the single drive performance and also validate how it behaves in RAID mode.
We will be comparing the new Micron offering with two PCIe 3.0 NVMe SSDs from our lab test pool:
Samsung 970 EVO 1TB – PCI-E Gen 3, PN: MZVLB1T0HALR
Kioxia XG6 1TB – PCI-E Gen 3, PN: KXG60ZNV1T02
To test the sequential throughput performance, we have used the well-known ATTO Disk Benchmark that is able to use a variety of I/O chunks starting from 512 Bytes up to 64MB. To make the graphs look not too cluttered, we have selected a few results that show a gradual speed increase when using read and write operations and different block sizes.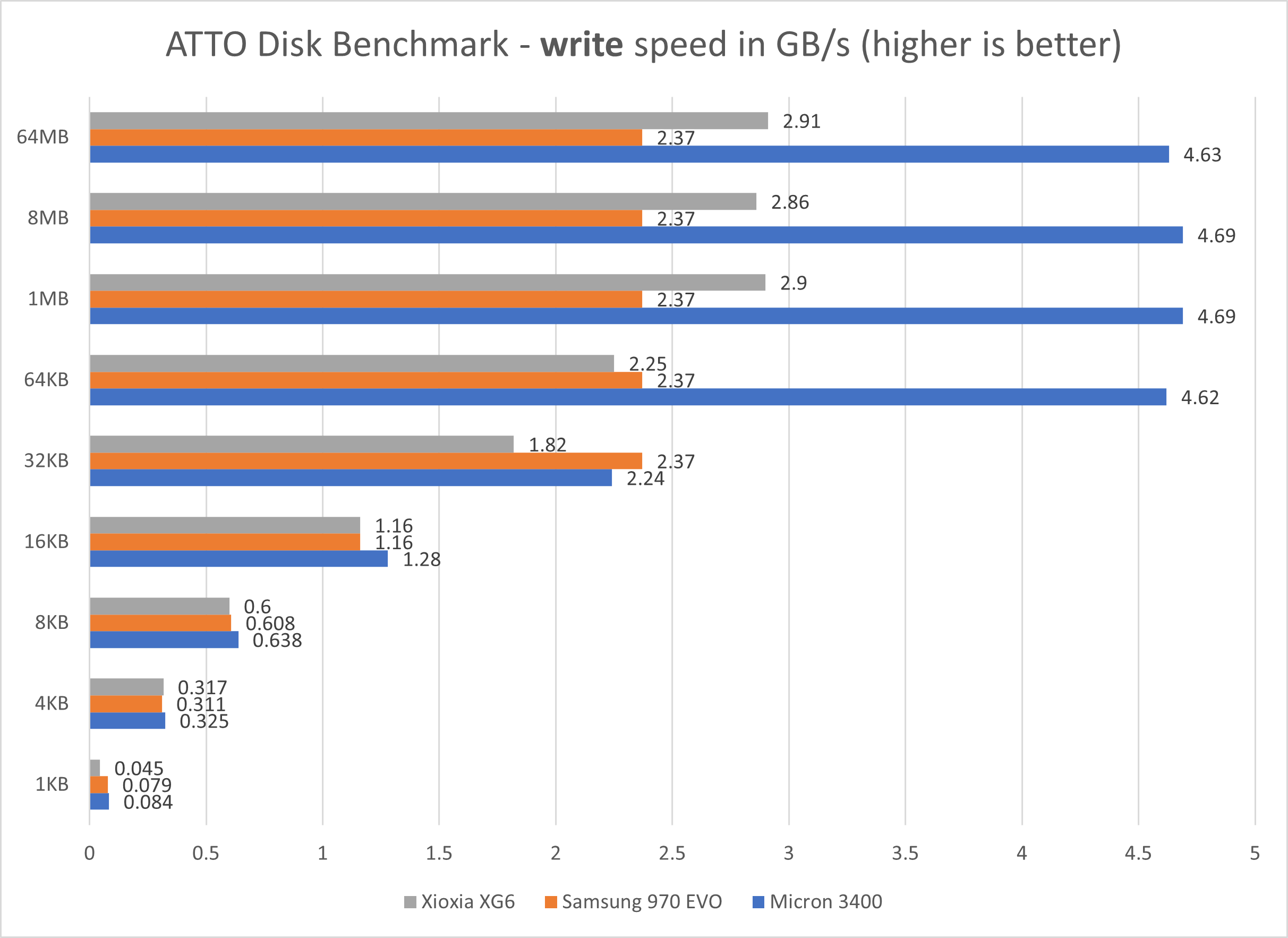 Under read and at lower block sizes, the Samsung 970 EVO does take the lead but for writes and as block sizes increase, we see a clear overall winner in the Micron 3400. The upgraded PCIe 4.0 interface that offers twice the bandwidth of the previous generation gives the Micron 3400 a clear edge over the older generation SSDs. It delivers almost double the throughput of the other drives on test - up to a blistering 6.34GB/s read and up to 4.69GB/s write speed.
To test the random performance, we have used AS SSD Benchmark and selected the 4KB 64 threads test using 10GB test file.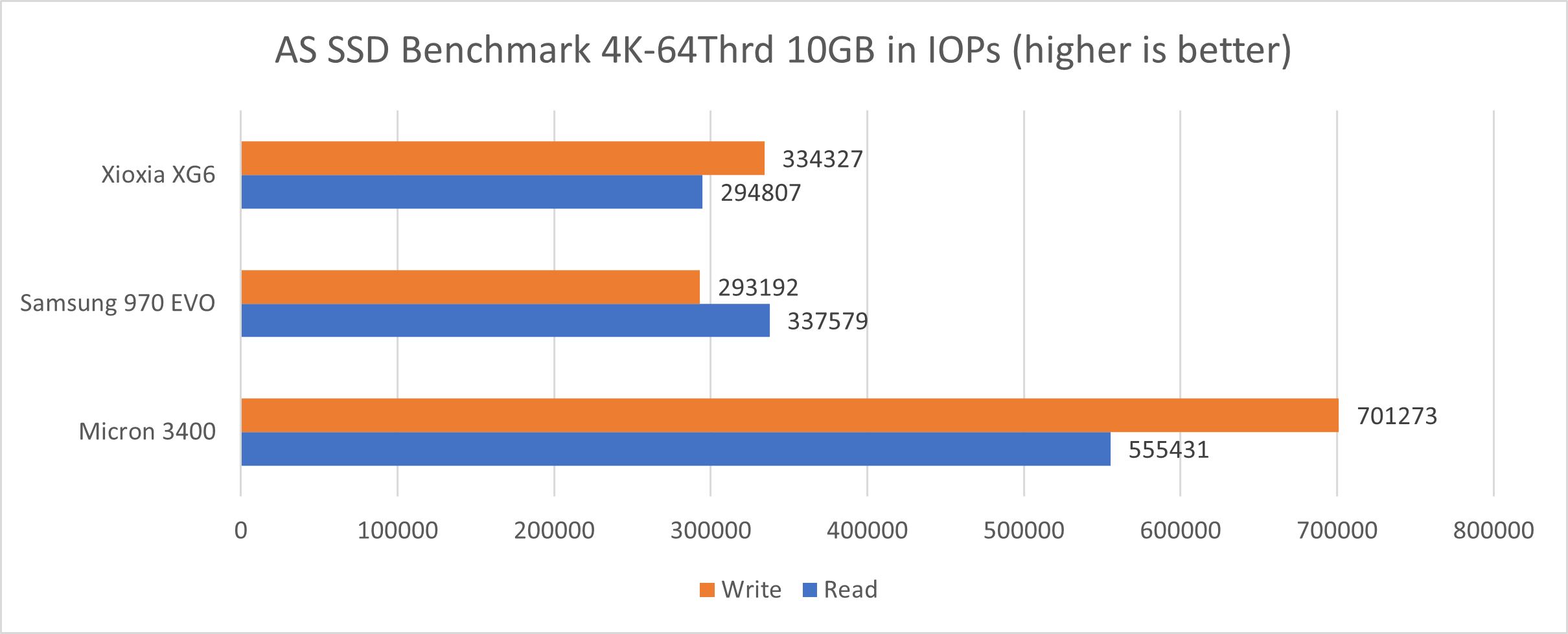 Micron 3400 came up on top again, with more than 700k write and 555k IOPs, again almost doubling the figures of the other drives on test.
To generate the more realistic everyday test scenario, we have used CrystalDiskMark 8 and selected a real-world performance option that uses a mix of 70% reads and 30% writes to try to replicate a similar usage pattern to an average desktop user.

The Micron SSD proved once again to be a great performing drive reaching almost 20000 IOPs and nearly 4500 IOPS more than the Samsung 970 EVO, its closest competitor.
Since our test system supports an NVMe software RAID function, we also tested four Micron 3400 SSDs in RAID0 configuration. With 4 SSDs in RAID0, we're getting the total storage capacity of 4 drives and "in theory" 4x of read and write performance of one drive, but there is always some software or hardware overhead that limits it. The performance of HDDs or SSDs in RAID never quite scales perfectly when adding more drives. This limitation tends to be related to the RAID implementation and key components like the CPU time and bus bottlenecks rather than the drives themselves.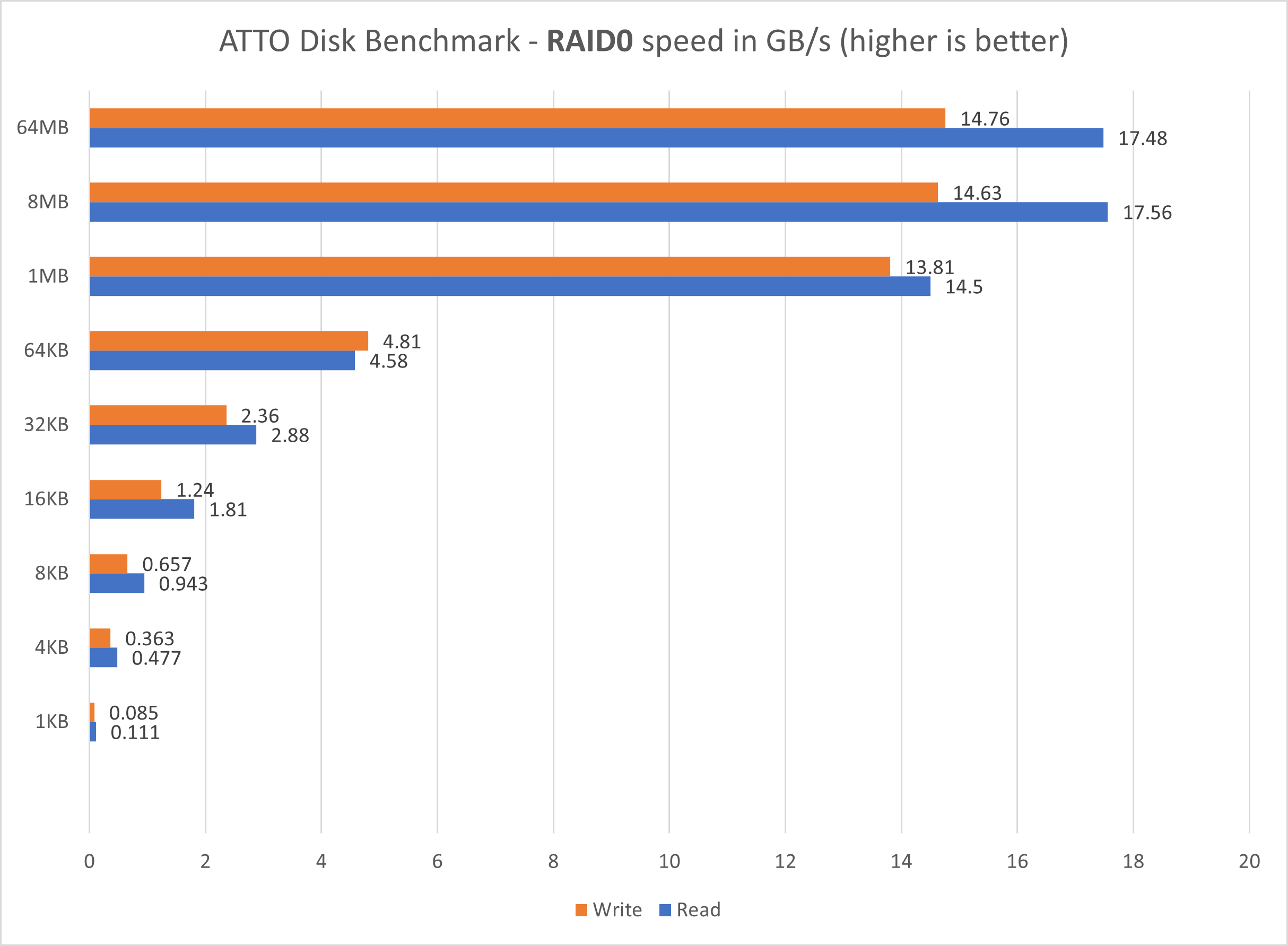 Our test results show that in RAID0, we were able to achieve up to a colossal 17.56GB/s read and 14.76GB/s of write throughput.
In a perfect world, when extrapolated from our previous single disk test, this would be 25.36GB/S and 18.52GB/s which equates to scaling of around 70% and 80% of liner respectively. For a software RAID volume this is not bad at all and is an easy way to create a very high-performance scratch drive for video editing up to 8K video, or if you're like us – just loading games amazingly quickly.
In conclusion, Micron 3400 is a great NVMe storage device that showed impressive results throughout our testing. The PCIe 4.0 interface brings a massive performance boost over the previous generation with double the bandwidth, this simply leaves the older generation of solid-state drives based on PCIe 3.0 far behind. With the recent launch of PCIe 5.0, we are looking forward to seeing what Micron will do next to take the advantage of this technology.
Boston Labs is all about enabling our customers to make informed decisions in selecting the right hardware, software, and overall solution for their specific challenges. If you'd like to request a test drive of Micron 3400 NVMe SSD's or the other Micron products, please get in contact by emailing [email protected] or call us on 01727 876100 and one of our experienced sales engineers will gladly guide you through building the perfect solution just for you.
Written by:
Tom Michalski, Senior FAE, Boston Limited