Posted on 09 August, 2021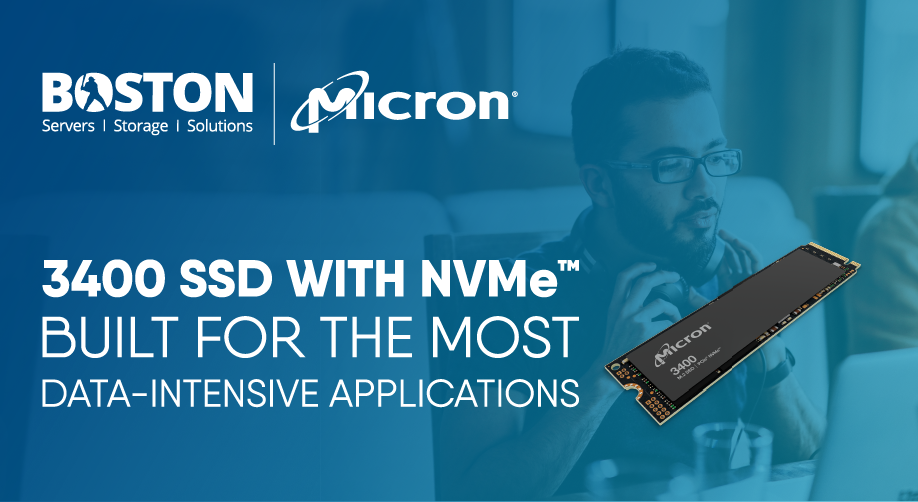 The Micron 3400 SSD is a future-proof solution that will harness the mammoth I/O loads needed to manage today's 4K (and tomorrow's 8K) double or triple monitor, work-from-home setups that have blurred the lines between personal and work-related tasks. The Micron 3400 SSD is ready for higher-resolution work and personal videos. Its speed and capacity make creating and saving additional copies of projects easy. It thrives on complex accounting and active asset and security management applications.
Users need the high-performance, high-capacity storage that professional applications like real-time 3D rendering, computer-aided design (CAD), and animation require.

1. Includes end-to-end data path protection, power loss protection, secure firmware, and Micron's standard client SSD warranty
2. It's listed as Intel Project Athena-ready, a critical proof point for achieving client, platform-level EVO1
3. Provides Gen 4 PCIe performance: Sequential read and write performance of 6.6GB/s and up to 3.6GB/s respectively

Micron 3400 SSD Key Benefits
Innovative Industry-First 176-Layer NAND2 on PCIe Gen4 to tame the most demanding use cases
The capacity to unleash the most data-intensive applications
Power-efficiency for All-Day computing

To discover how Boston and Micron can help fulfill your SSD requirements, contact our Sales team who are on hand to answer any questions you may have! Call us on 01727 876100, email us at [email protected], or for more information visit our Micron Partner Page.