Posted on 10 May, 2021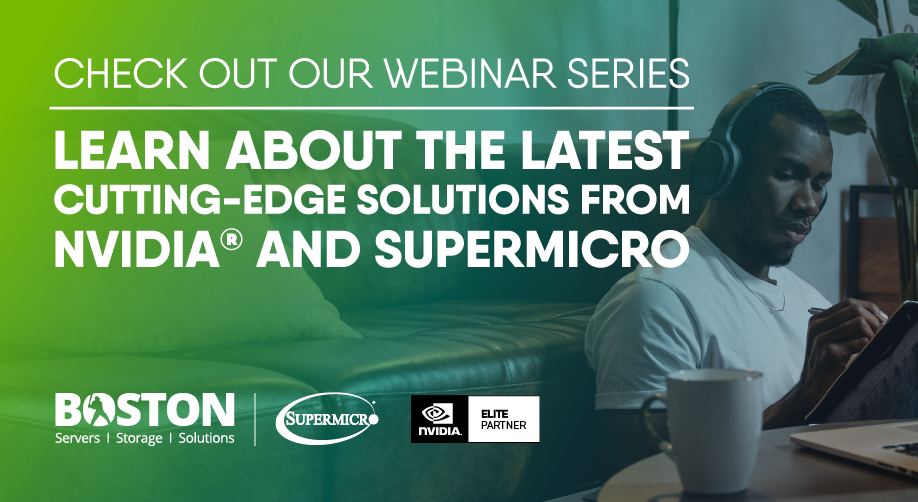 Join Supermicro's series of upcoming webinars to learn how the latest cutting-edge solutions from NVIDIA and Supermicro power new telco networks, datacentre AI clusters, and HPC.
These sessions, originally broadcast at NVIDIA's recent GTC21, feature Supermicro and NVIDIA product experts and solution partners discussing how customers are leveraging the latest GPU technology and innovative system designs to meet demanding workload needs for advanced real-world applications.
GPU-Optimized Applications for Mobile Networks and Edge Computing
May 12th 18:00pm BST
In this session, Supermicro's Jay Lawrence and François Caron from Ribbon Communications will discuss market-leading 5G applications developed by Ribbon that leverage NVIDIA GPU technology, and Supermicro servers that have been optimized to support the associated workloads.
Leverage the Fastest GPU & Storage Communications for DeepLearning Superclusters
May 19th 18:00pm BST
In this session, Supermicro's Mike Scriber and Rob Davis of NVIDIA will discuss the importance of high-performance storage in a GPU system, and how that storage picture is changing. They will talk about how solutions can range from local direct storage to remote storage using NVMeoF and GPUdirect.
Modern Data Center Challenges and Workloads
May 26th 18:00pm BST
In this session, Supermicro's Alok Srivastav and James He will discuss the significance of modern data center challenges, and how Supermicro's new servers powered by the latest NVIDIA GPUs can simplify and address the challenges. They will present solutions that redefine the modern system architecture with new features such as MIG and GPUDirect Storage.