Posted on 20 March, 2020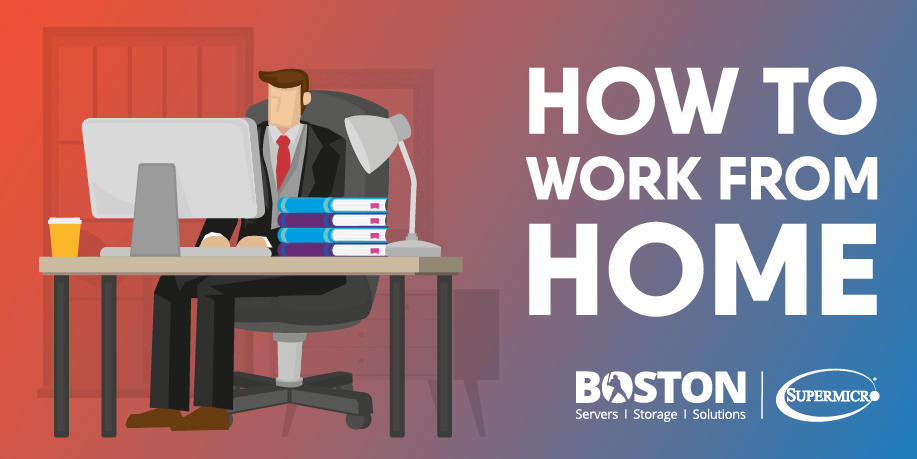 Hundreds of thousands of "office" people are now facing the prospect of working from home or 'teleworking' for an extended, unknown period of time. Bandwidth restrictions are starting to be enforced and we don't know how long we will be working at home for? Fear not! We're here to help
When the novelty wears off, working from home is harder than you think, with distractions from family members, pets and that stack of washing sitting in a pile it's easy to find yourself unproductive. The below tips are collected from genuine experience of long-term home or remote-working.
Designated Workspace:
Create a work-space that's set apart from your relaxing space; if you're using a personal laptop/workstation it can be even harder to separate work from leisure but try to make small changes that get you in the work frame of mind, e.g. work notebook and pen, desk calendar, other work objects. It's also important that you keep the room well ventilated and keep a glass of water on your desk. Whilst you're thiking about your physical work environment, it's good to also think about your digital workspace. If you're using a personal workstation or laptop you may want to create a separate profile on your personal laptop that's for work only.
A top tip from an experienced remote-worker is:
"I recommend buying a good noise cancelling headset with microphone as this will be essential for you being able to communicate clearly for video and audio calls. I personally use the Mac ecosystem and have Apple Airpods they work really well with my laptop, mac and phone and are much cheaper than corporate solutions."
If you can set up multiple monitors (space permitting) you will find it makes work easier, one screen can be open for your work, with another open for collaborative tasks, video calls and screen shares.
Boston can help you set up remote desktops for your organisation, enquire for more information
Broadband connection:
We've already received reports that broadband connectivity is already starting to become a problem! The EU are already imposing pressure onto online streaming services to revert back to SD/HD streams and there will be far more to come. Your connection at home, certainly for video calls will be more important than before.
Now may be a good time to check you are getting the speeds you are paying for using some of the benchmarking sites and it also may be worthwhile reviewing what broadband package you are currently on - and other new options available.
If you really want to understand what is happening to all the datacenters right now we recommend watching "Dirty Streaming" on BBC iPlayer
Self-discipline:
The type of personality you have will make you more or less adept to working from home. Some people are going to relish the opportunity to work to a schedule whilst others are going to feel totally lost.
Keep to your normal working hours as much as possible, having clear guidelines for when to work and when to call it a day helps many you maintain work-life balance.
If you have children at home it can be so much harder to keep a schedule but you may find that keeping them on a schedule will also help them adapt to life away from school.
There's no 'I' in Team... or is there?
It's easy to feel fragmented when your team are all remote so it's important to set regular team meetings throughout the day; even if there is nothing work-related to talk about having a chat as you would in the office is good to keep morale and productivity up. Remember you've lost the opportunity to turn to your colleague and ask did they send that email… fight the urge to hibernate.
"Check in on how everyone is finding remote working; discuss your challenges and feel able to communicate with each other and give yourselves the flexibility to adapt to your colleagues needs."
Stay secure
Working remotely will be heavily led by what applications and policies your IT department has in house. Check with your IT department about any special considerations you may need to think about during your time working from home. Remember to check any company policies around the use of Dropbox, GoogleDocs and more. If possible use your company logins, apps and programs as you would if you were in the office.
"Where you use apps like Hangouts, Slack or Teams make sure you check your avatar photo and ensure it's suitable for work. Same goes for webinars with your webcam on, be aware of your surroundings and also your attire."
Will someone think of the children?
Let the children know what to expect with you working from home, you will be shocked at what the young ones understand. Work with anyone who may be able to support you with childcare to setup a rota, where needed, so you can share time with the kids with the least impact on work.
"I've found when I've been under pressure at work I've been snapping at the family for no reason! Please be mindful of this - yes you may have a super important call at 5PM but it's still bath, dinner, Youtube time for them and it's still their home."
We've come across some great blogs and social media feeds that help with entertaining children of all ages, our favourites are below.