Posted on 21 October, 2019
Bigger and better than before!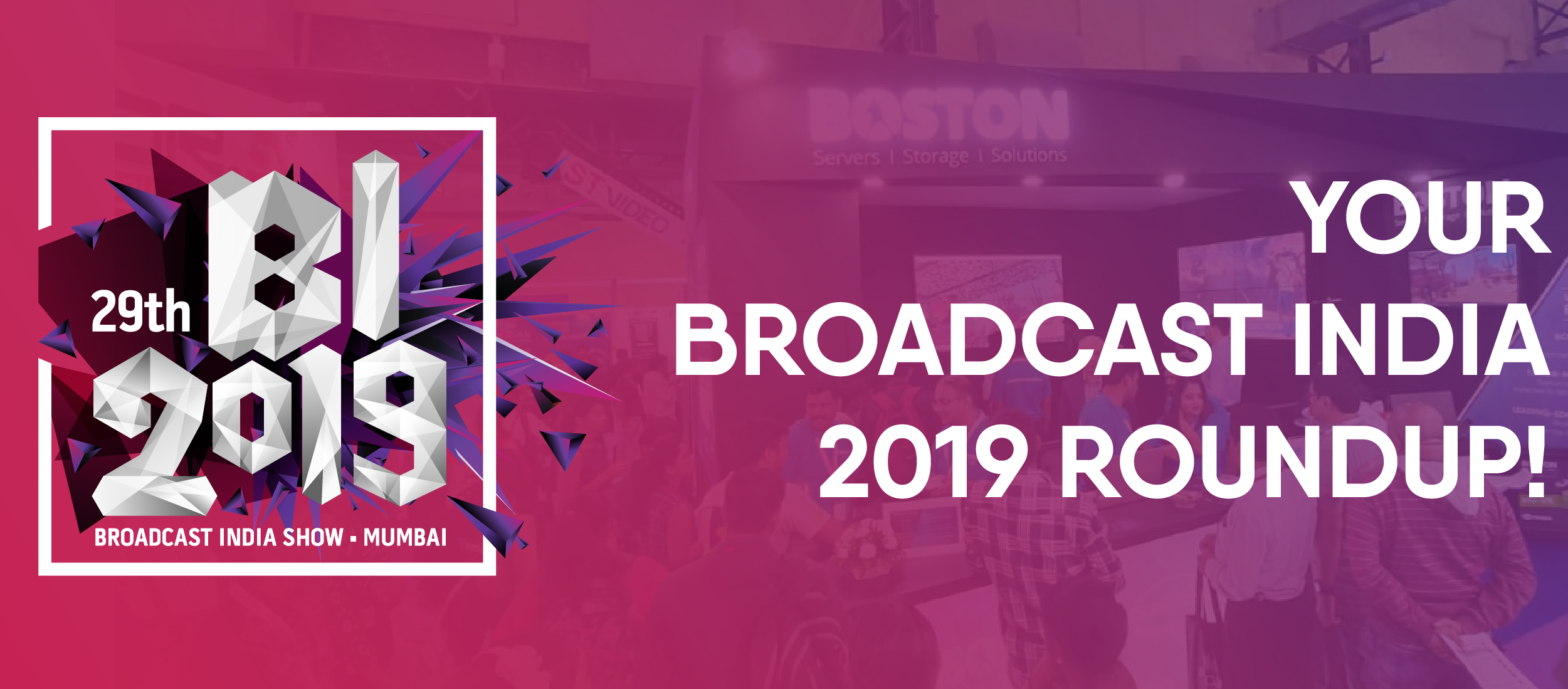 #BostonAtBroadcast
Boston was all over Broadcast this year with a large, live demo of the Multi-User VR System, stand talks, conference sessions and a keynote with Intel®!
Look out for our Broadcast RoundUp video with highlights from the Roamer MU-VR, BTA Media Analytics course launch and our keynote sessions.
On Stand

The UK, Barcelona, Cologne, Munich and now Mumbai. Our Roamer MU-VR solution is travelling the globe!
Immersive technology allows the user to remove human constraints such as time, space and budget - transporting users to an alternate reality where anything is possible. As technology advances, the entry cost reduces and we find more use cases. An example for the broadcast industry - acres of a movie scene or landscape architecture can be created and walked through from the comfort of an office chair.
Our Head of Product Development, Jon Howard, travelled to Mumbai and lead our highly successful Roamer MU-VR demonstrations:
"Our demos at the show were met with huge crowds and intrigue with our team constantly fielding questions about the technology behind the MU-VR"
Find out more about the Boston Roamer MU-VR!

Intel Country Lead, Akanksha and Ritesh, joined our team in India for several booth talks, discussion panels and a keynote on "Transform Your Business With AI"
Data is booming, and software is struggling to keep up. It's estimated that by 2020, the average internet user will consume 1.5GB of data daily while autonomous vehicles will consume 4TB and a connected aeroplane will use 5TB. With toolkits such as OpenVINO™, Intel provides software suites for both HPC and AI Compute, with solutions for the edge, data centres and the cloud, to intersect the information and help you process it.
Click here for more on our partnership with Intel
During Broadcast, we launched our new Boston Training Academy course for Media and Entertainment in partnership with Intel!
Data is the new oil of the digital economy. This newly launched course explores our individual digital data footprint and will allow you to harness the power of Media Analytics to effectively and cost-efficiently.
Click here for more on the Media Analytics Course

Simplify your storage environment with the VTrak series
We welcomed Promise Technology onto our booth at Broadcast to showcase the VTrak D5000 storage appliance. Unlock the power of flash cache - The VTrak D5000 allows you to edit and playback compressed video faster as it is optimized for video application environments with scalable, reliable and cost-efficient.
Click here for more information

EtherSec's Deep A-Eye™ will detect humans, and only humans, in difficult locations. It sends out alerts to VMS and/or mobile device via an encrypted secure messaging technique.
We were excited to welcome Daniel onto our stand to discuss "The Future of 3D" with EtherSec's advanced human-detection software - Deep A-Eye™ and A-Eye Verify™. Click the link above and learn how their software helps to reduce false alarms and keep your information safe.
Watch their demo below on YouTube!