Posted on 23 June, 2019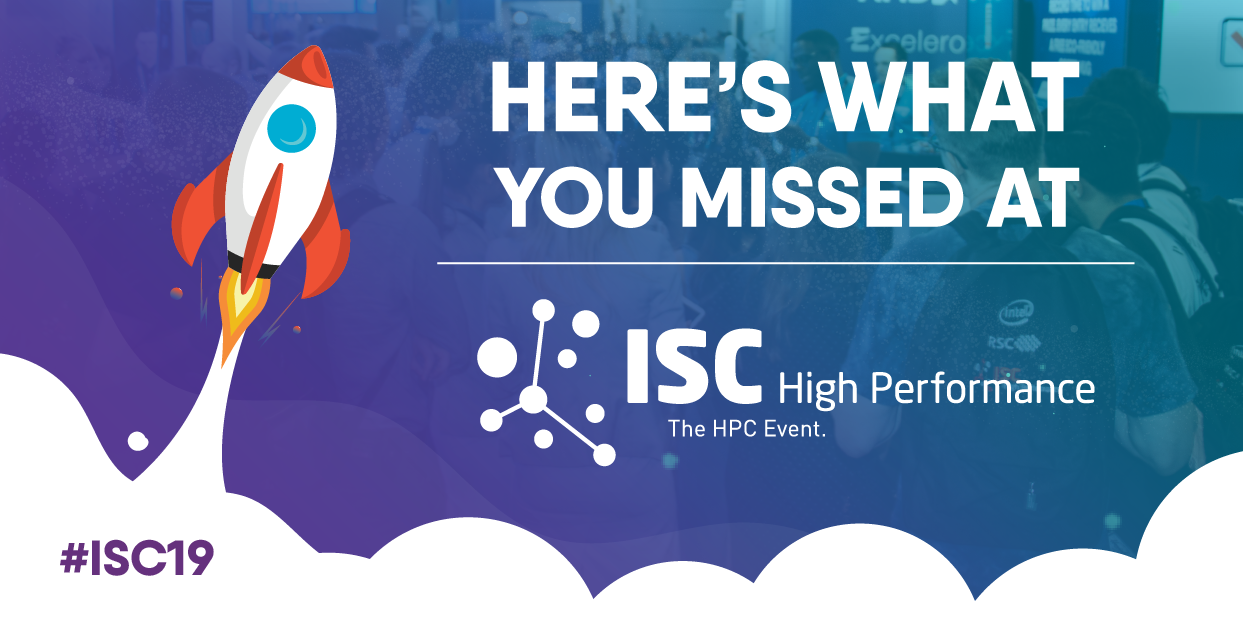 Back with AI Bang
As usual, the ISC High-Performance Computing conference was hosted in Frankfurt to clear blue skies and highs of 30°, but the weather wasn't the only thing heating up at this event. With a change in our usual approach, we chose a stand linked with fellow Silver sponsors and our longest standing partner, Supermicro to demonstrate our ongoing collaboration and showcase solutions developed on Supermicro building blocks.
Is AI in HPC and Big Data the fourth industrial revolution? Industry experts are seeing companies converge on this idea being the next wave of high-end workloads with several talks and technologies focused around it. Our Consultant Head of HPC, David Power, joined the discussion with two presentations at the conference – the Exhibitor Forum to present "Cloud and Clusters: The API Driven HPC Future" and the Vendor Showdown for vScaler which received a runner up nod!
Boston is continually developing solutions to address the next generation of AI and HPC workloads. Browse our website solutions headings for a breakdown of our AI and HPC solutions.
Were you at ISC too? Tweet us your highlights!
Notable Mentions
For the first time ever, the Top500 required systems to have a petaflop or more of performance. We're pleased to say we have several technology partner products included in the list! Head to the Top500 website for more.
There was a hushed buzz at ISC this year regarding the next generation AMD EPYC™ Processors with the rumoured CPUs to be released later this year. However, their most recent big announcement was with their 'Frontier' US Exascale System! This announcement with the US Department of Energy shows industry confidence in AMD and the exerted effort to regain some control in the HPC market.
As always, Boston is ready for the latest product releases with the flexibility of Supermicro. If you weren't fortunate enough to visit our NDA room, then get in touch!

A week before the opening keynote, Boston announced the first European NVIDIA RAPIDS test time programme! This brings together NVIDIA RAPIDS, a suite of open-source software libraries giving data scientists the freedom to execute end-to-end data science and analytics pipelines entirely on GPUs, and Boston's 25 years of server hardware integration experience.
Click here to register your interest!

This year, our main booth demo featured a Supernova Simulation running on the NVIDIA DGX Station. By altering the combustion speed, moving through the centre of the explosion and rotating around the simulation, attendees utilised NVIDIA IndeX SDK to interact with the real-time rendering of a Supernova!
NVIDIA IndeX takes advantage of the computational horsepower of GPUs to deliver real-time performance on massive datasets by distributing visualisation workloads across a GPU-accelerated cluster.
Discover more on NVIDIA's website.

We featured Supermicro's 2029GP-TR SuperServer on our booth that supports up to 6 GPUs! With the added support for the new Intel® 2nd Gen Xeon® Scalable processors, this SuperServer has the power to excel in numerous verticals.
Visit our Supermicro Store for the full range!

This powerful hybrid cloud appliance combines computational performance, scalable storage and advanced networking to provide you with the most versatile cloud solution available. From HPC to Big Data, AI and Deep Learning, you can create a bespoke solution to maximise output for your workload.
Want to test vScaler? Get in touch with the Boston Labs team or pick up your version of OpenStack for Dummies.
vScaler also announced the integration of RAPIDS for accelerated data science toolchains last year!

Our stand was located directly opposite technology partners Intel with 2 systems on show: our Intel Select Solution for Simulation and Modelling and an Intel S9200WK product family server. With the recent release of Intel® Xeon® 2nd Gen Cascade Lake AP, both systems are available with more compute power for work and research in AI and HPC verticals including Physics, CAE, CFD and more.
Click here for a full range of our Intel solutions!

The Boston Flash-IO Talyn leverages Excelero's new NVMesh 2 technology to accelerate and optimise the most demanding workloads. The software-defined storage block pairs with our bespoke storage configurations provide you with the best results for your specific workload.
Excelero was also at ISC with a live demo on their booth! More can be found on their socials.
Discover more from our solution partners Excelero, the Boston Flash-IO Talyn and get in touch to test it!

For the second year running, we featured an Immersed Computing system on our stand - the Fenway AIC24-DDW. Featuring the latest generation AMD EPYC™ processor, this joint Asperitas-Boston solution was designed to deliver double the compute density, the highest performance, efficiency and scalability to high performance and high-density cloud environments.
With 4 new joint sleds announced at CloudFest 2019 earlier this year, the impressive catalogue of SKUs keeps growing!
Click here for datasheets and our solutions page.
CoolDC Partnership
We announced the partnership between coolDC and Boston prior to ISC where they joined Asperitas on their booth.
With an aim to offer a step-change in how data centres operate, coolDC offer more than just a 'data centre'. By designing more energy efficient and sustainable data centres, it was an easy strategic decision to connect as global delivery partners for Asperitas solutions.
CoolDC will be Delivery Partners for our solutions with Asperitas, including the Fenway AIC24-DDW on display. The future is greener with a Boston, coolDC, Asperitas partnership.

Boston was proud and excited to work with the Edinburgh Parallel Computing Centre team again in the Student Cluster Competition this year! Team EPCC competed against some of the best young minds in the world in a series of challenges using a DGX-1 and a mix of Intel Skylake and Cascade Lake CPUs housed in an 8U rack.
This intense three-day competition concluded with all participants taking centre stage, alongside HPC luminaries, for a live ceremony award and to recognise each of the participating teams.
All solutions mentioned are available to test in our BostonLabs so get in touch to request your test drive!