Posted on 08 April, 2019
Next-Level Acceleration has arrived from NVIDIA®
NVIDIA® announced their new professional graphics card which is powered by NVIDIA Turing™ Tensor Cores. Based on the Turing architecture, the NVIDIA® T4 GPU accelerates diverse cloud workloads, including high-performance computing, deep learning training and inference, machine learning, data analytics, and graphics. It's also the first datacentre GPU to include dedicated ray-tracing processors!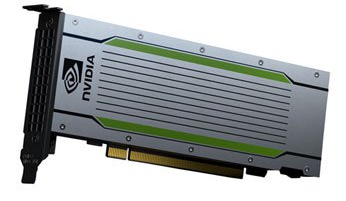 Online videos are continuously growing and becoming popular, which increases the demand for solutions that efficiently gain insights from videos. The NVIDIA® Tesla T4 delivers breakthrough performance for AI video applications and can decode up to 38 full-HD video streams, making it easier to integrate scalable deep learning into video pipelines. This advanced GPU is packaged in an energy-efficient 70 watt, single-slot PCIe form factor.
NVIDIA® claim that the Tesla T4 is up to 12x more power efficient than its former model, the NVIDIA Pascal™!
The NVIDIA® Tesla T4 has impressive specs which include:
Turing TU104 GPU with 2560 CUDA cores and 320 Tensor Cores
320 GB/s+ memory bandwidth
Delivers 8.1 TFLOPS of FP32 performance
Optimised for scale-out servers providing an incredible 50X higher efficiency compared to CPUs

If you would like to test the NVIDIA® T4, then please get in contact with our team at Boston Labs and we can arrange your test drive!
For more information, you can view the NVIDIA® T4 Datasheet here .