Posted on 02 April, 2019

With the curtain finally lifted on Intel's new generation Intel® Xeon® Scalable Processor family (up until now codenamed Cascade Lake) we're excited to share some of the long awaited details of this new product family, what it has to offer, how performance compares to the previous generation (codenamed Skylake)
Data is everywhere, creating unprecedented opportunities for business transformation. But businesses cannot compete on old infrastructure. With the end of support for Microsoft Windows Server 2008 and SQL Server 2008 upon us, now is the time to modernise IT updating both software and hardware to eliminate bottlenecks and get the most out of infrastructure investments. The convergence of compute, memory, network, and storage, along with built-in security, make 2nd Gen Intel® Xeon® Scalable processors faster and simpler to deploy and scale. Intel® Select Solutions help you quickly build optimized systems to process, move, and store data so your customers are ready for data-centric computing.
What's new with the 2nd Gen Intel® Xeon® Scalable Family?
Improved Turbo frequencies, up to 4.4 GHz
Enhanced Memory Support including support for Intel® Optane™ DC persistent memory with enhanced DDR4 performance support
AI acceleration with Intel® Deep Learning Boost (VNNI)
Intel® Security Essentials, a built-in foundation of core security capabilities
Enhanced Intel® Infrastructure Management Technologies
Integrated hardware-based security mitigations
What new performance can I expect?
Generally speaking, for a given Skylake Xeon SKU, you can expect the equivalent Cascade Lake SKU to offer a small uplift in performance and, usually, coupled with a small drop in power consumption though, on that last point, there are caveats and new technologies with Cascade Lake can have an impact on that.
The differences in performance will depend on the workload being run, of course, but SKU frequencies and/or core counts have generally been increased for most models meaning a fundamental increase in performance can be expected. To give an indication of some performances that can be expected, below is a graph showing Intel® Optimised Linpack performance results for the new Cascade Lake series of Xeons, versus their Skylake counterparts: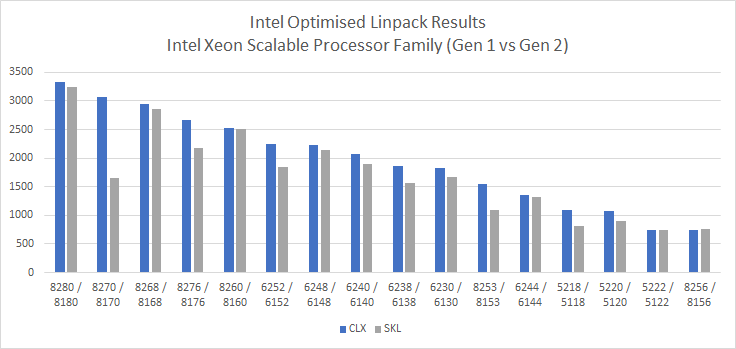 For just about every comparable SKU, you can see an improvement in Linpack score. The exact improvement varies between the different SKUs but is generally a reflection of the modification of frequency and/or core count. We'll provide a complete list of SKUs and specifications in due course.
Beyond just headline clock frequencies, there are further refinements available on various models which can improve performance:
Intel Speed Select – On certain variants of the Intel® Xeon® Scalable Processor family, Intel Speed Select is a new technology that allows users and system architects to optimise the CPU base frequency depending on expected core loading. Without this technology, the base frequency is set at a low level that can be sustained if all cores are active; if only a subset of the available cores are required on a Speed Select enabled CPU, the fundamental base frequency can be increased to deliver higher performances at lower utilisations.
VNNI – If your application is performing DL/AI workloads on CPU, VNNI is designed to liberate the potentially underutilised AVX-512 registers for AI processing. This can potentially yield a 4x improvement in performance over previous generation CPUs.
There are a few ways that you can find out the benefits of scaling your IT up; you can test a number of the latest technologies at Boston Labs - for more information contact Boston Labs. You can also visit the Intel® Scale IT Up tool which has side by side comparisons that demonstrate the total cost of ownership benefits and help you position the power of upgrading storage and networking as well as software to unleash the full potential of the CPU.