Posted on 19 March, 2019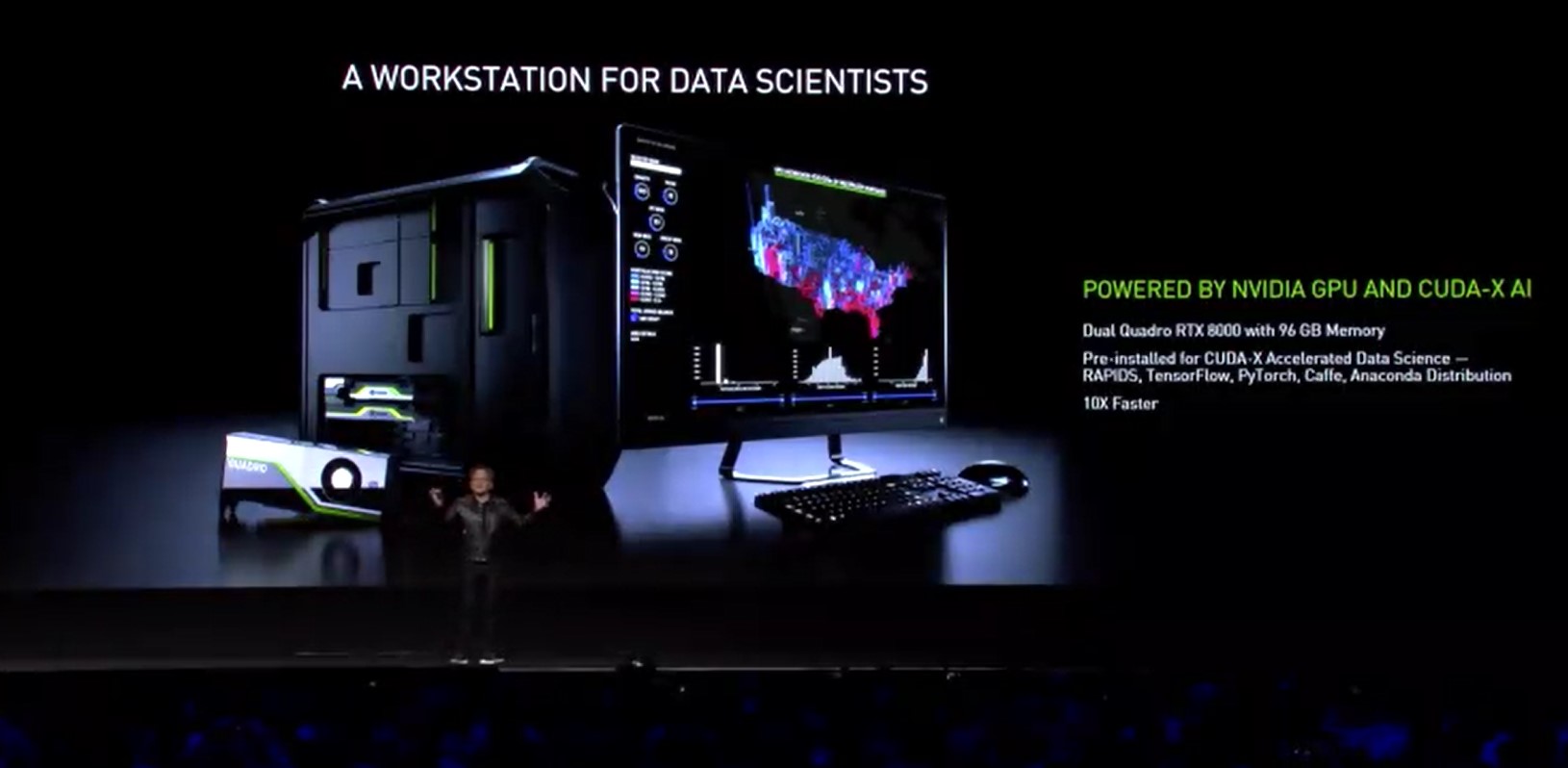 The new workstations that integrate NVIDIA® Quadro RTX™ are purpose-built for data analytics, machine learning and deep learning. After teaming up with the world's leading OEMs and system builders, these systems were built to be capable of processing and analysing vast amounts of data used in many different fields such as finance, insurance and professional services, to name a few.

NVIDIA-powered workstations for data science are based on a powerful reference architecture made up of dual, high-end NVIDIA Quadro RTX™ GPUs and NVIDIA CUDA-X AI™ accelerated data science software, such as RAPIDS™, TensorFlow, PyTorch and Caffe. CUDA-X AI is a collection of libraries that enable modern computing applications to benefit from NVIDIA's GPU-accelerated computing platform.
"Data science is one of the fastest growing fields of computer science and impacts every industry. Enterprises are eager to unlock the value of their business data using machine learning and are hiring at an unprecedented rate data scientists who require powerful workstations architected specifically for their needs," said Jensen Huang, founder and CEO of NVIDIA®. "With our partners, we are introducing NVIDIA-powered data science workstations — made possible by our new Turing Tensor Core GPUs and CUDA-X AI acceleration libraries — that allow data scientists to develop predictive models that can revolutionize their business."
What is NVIDIA RTX Technology?
NVIDIA® Quadro RTX™, powered by the NVIDIA Turing™ architecture and the NVIDIA RTX™ platform, brings the most significant advancement in computer graphics in over a decade to professional workflows. Designers and artists can now create amazing content faster than ever before with the power of hardware-accelerated ray tracing, deep learning, and advanced shading to dramatically boost productivity.

The Quadro RTX 6000 for example is equipped with 4608 CUDA cores, 576 Tensor cores, 72 RT Cores and massive 24 GB GDDR6 memory. It can also render complex models and scenes with physically accurate shadows, reflections, and refractions to empower users with instant insight. Support for NVIDIA NVLink enables applications to scale memory and performance with multi-GPU configurations. And with the industry's first implementation of the new VirtualLink®6 Quadro RTX 6000 provides connectivity to the next-generation of high-resolution VR headmounted displays to let designers view their work in the most compelling virtual environments possible.
The NVIDIA® Quadro RTX™ 8000 is the world's first ray tracing GPU. It is packed with 48GB of high-speed GDDR6 memory and NVIDIA NVLink™, allowing users to expand the boundary of what's possible and enables professional applications to easily scale memory and performance with multi-GPU configurations.
View the Original Press Release here.
To find out more about the RTX™ range. use the resources below: