The Next Dimension. Deploy a Full, Seamless Windows 10 Experience in a Fully Virtualised Environment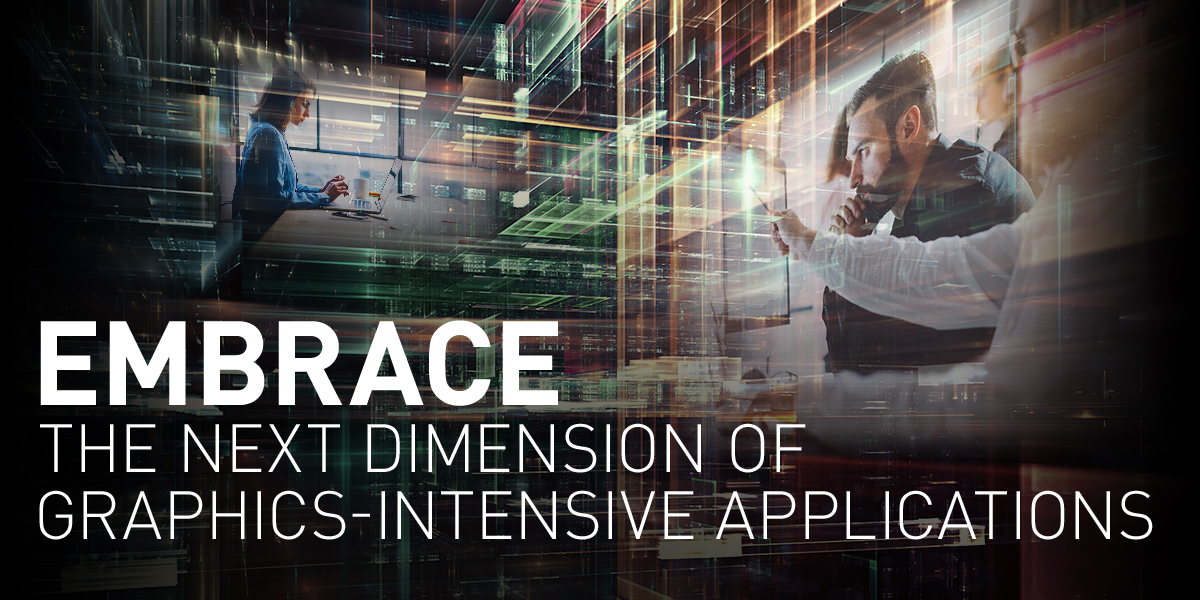 Experience.
FULL-FEATURE, FULL SPEED.
Digital Natives; Technical Innovators; Impatient Millennials; However you think of them, today's workforce expect a fast, full-feature Windows 10 experience – whilst also demanding all the convenience that comes from a virtualised desktop infrastructure.
Secure.
PROJECT CRITICAL ASSETS.
Amidst a growing cybersecurity threat, you need to ensure your most valued assets are protected from theft or loss… without constraining productivity.
NVIDIA GRID improves overall security whilst ensuring designs, data and intellectual property are stored centrally, protecting your data from breaches or damage, whilst still supporting real-time collaboration and team work.
Embrace.
FUTURE-PROOF APPLICATIONS.
As platforms strive to be evermore powerful, flexible and easy-to-use, future applications are only going to become more and more graphics-intensive.
Deploying NVIDIA GRID makes sure that your virtual desktop infrastructure isn't just able to support every feature of Windows 10, but whatever comes after it.
Top 4 Reasons Why Windows 10 VDI Needs GPU - Infographic

Top 4 Reasons Why Windows 10 VDI Needs GPU - eBook

KEEP PACE WITH GROWING DEMANDS.

Today's modern workforce expects immersive, high-quality visuals and tremendous processing speed. These graphics requirements, plus a 2X increase in the number of applications requiring accelerated graphics, is putting new power demands on Windows 10 virtual desktops.

Learn why a VDI environment with GPUs is a must-have for any enterprise organisation.

Windows 10 VDI with NVIDIA GRID vPC - Video

The Need for Graphics Virtualisation in Modern End-User Computing Envrionments - White Paper

MODERN APPLICATIONS WITH FULL PERFORMANCE

In this Technology Spotlight, IDC reviews the impact of the digital transformation on end user computing and the need for graphics virtualization including:

How the digital transformation is affecting the delivery of desktop OSs and applications.
The impact of the rapidly growing Windows 10.
The role of NVIDIA GRID™ in delivering graphics acceleration to modern workloads.
Go Faster.
Increase performance, improve experience and simplify management with a network built to support even the most demanding of applications.
Go Further.
Give your business the flexibility to embrace innovation, seize new opportunities, and offer greater staff freedom than ever before.
Go. Future
Today's graphics-hungry applications are just the start – NVIDIA GRID delivers network virtualisation ready to support whatever the future can throw at it.