Posted on 24 November, 2017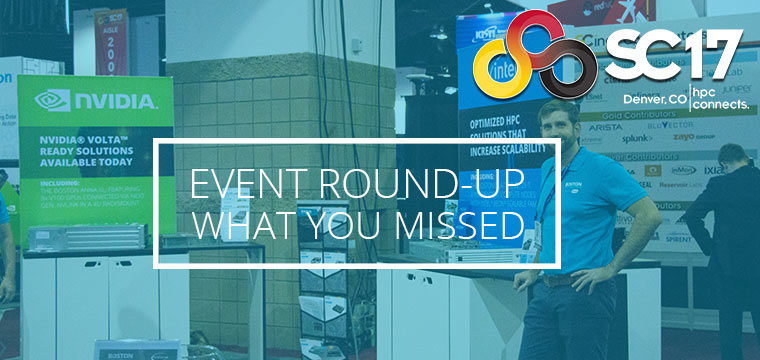 Yet again, it was another fantastic year at SC, this year held in Denver. SC continues to grow steadily in size and impact each year, following the same ideology as Boston; celebrating innovation and allowing companies to showcase amazing developments in HPC during 2017.
Inspiring new generations of innovation and advancements in technology, Boston were delighted to unveil many of our much-awaited storage and sever solutions such as the Boston Flash-IO Talyn. A revolutionary leap forward in NVMe over fabrics, the Flash-IO Tayln includes Excelero's NVMesh technology enabling low latency and high performance access to NVMe volumes to be delivered to remote clients with minimum processor overhead.
Enquire about any of our solutions

Boston Flash-IO Talyn - All-flash NVMe over Fabrics
The Boston Flash-IO Talyn was by far the most popular solution on the stand at this years Supercomputing. Perhaps it was the fact that this is a competition-busting piece of technology or it's stylish bright blue bezel and attractive vinyl wrap...either way there was a steady stream of interest in this solution that features award-winning NVMesh server SAN.
Developed in partnership with Excelero, Mellanox, Micron and Supermicro, the Boston Flash-IO Talyn addresses the pressure placed on storage architectures by data-heavy applications across a range of verticals such as HPC, rendering, Media & Entertainment, deep learning and AI.
This solution is available for testing now - enquire for more information.
View the Boston Flash-IO Talyn Datasheet

Boston ANNA Volta - Featuring 8x NVIDIA® Volta™ GPUs and taking advantage of next generation NVLink™
The Boston ANNA Volta XL, features 8x NVIDIA® Tesla® V100 GPU accelerators for deep learning training, purpose-built to dramatically reduce training time. Running Caffe and Torch on the Tesla V100 delivers the same model within days versus weeks on CPU based compute systems.
This solution is available for testing now - enquire for more information
View the Boston ANNA Volta XL Datasheet

Boston Quattro 12256-T "LHP Edition" - Liquid cooled Intel® Xeon Phi™ 2U, 4 Node server
The Boston Quattro 12256-T "LHP edition" is the 2U, 4-node server featuring the latest generation Intel® Xeon Phi processor (codenamed Knights Landing) is designed with parallelism and vectorised workloads in mind. Intel's 2nd generation Intel® Xeon Phi Product Family, delivers massive thread parallelism, data parallelism and memory bandwidth.
In collaboration with Calyos, Boston have now developed an improved version of this server SKU by utilising their cooling solution based on LHP (Loop Heat Pipe) technology. This innovative 2-Phase cooling solution has been designed for the datacentre and provides several advantages such as improved thermals, better efficiency, lower power consumption and extended server operating temperature when compared to a standard air-cooled equivalent.
This solution is available for testing now - enquire for more information
View the Boston Quattro 12256-T "LHP Edition" Datasheet

Mellanox SN2100 Series
Half-Width 16-port Non-blocking 100GbE Open Ethernet Switch System. The SN2100 switch provides the highest density of 25G ports per 1RU with 128 ports in a side-by-side configuration to provide highest density as well as ToR redundancy in the smallest footprint.
A variety of networking solutions are available for testing now - enquire for more information.

Boston dataScaler-L SFF - Intel® Lustre* Small Form Factor Solution
Boston's dataScaler-L SFF (small form factor) appliance is the latest addition to Boston's Lustre based parallel file system portfolio and provides a lower cost / capacity entry point for Lustre storage systems. Traditional Lustre solutions on the market are focused on addressing the high end cluster users, while the Boston Lustre SFF is designed for small or mid-sized clusters with capacities as low as 18TB (and scaling to 720TB). This solution provides a high performance alternative to standard NFS and provides customers with the option to scale and grow as the cluster and user demands increase over time.
This solution is available for testing now - enquire for more information.
View the Boston dataScaler-L SFF Datasheet