Posted on 14 June 2012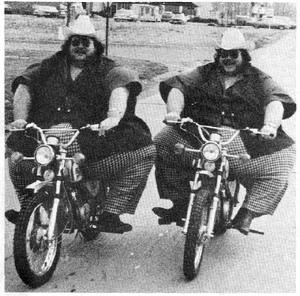 A fat twin...the chubbier of two siblings? The famous American motorcycle-riding duo from the 70's?
As enjoyable as it might be to escape the world high performance technology for a moment and blog about either of the above (or not!), the term, in this case refers to something far more useful and relevant: Supermicro's brand new offering from their evolving line of Twin Architecture SuperServer® solutions!
The evolutionary 4U FatTwin greatly expands compute and storage capacities beyond Supermicro's existing 2U Twin2™ and 1U Twin™ SuperServer® systems to achieve increased performance with lower power consumption. By virtue of its shared components the FatTwin improves cost-effectiveness and reliability, while its modular architecture makes it flexible to configure and easy to maintain.
The FatTwin is available in high-density 8 / 4 / 2 hot-plug system node configurations with a choice of memory capacities, hard disk drives, power supplies, front or rear I/O, PCI and networking options and more. Its high efficiency, highly effective shared cooling architecture allows the FatTwin to operate in high-temperature, free-air cooled environments up to 47°C, providing considerable cost savings and improved TCO. Versatile configurations allow the FatTwin to be optimized for many different environments including Data Center, Cloud Computing, and HPC; Engineering, Research, and GPU projects; File and Storage Server deployments; and General Server and Enterprise Server applications.
Click here for more information and to find out the story behind the name!